With the super hit movies like The Matrix, Speed, and John Wick, Keanu Reeves has become the top actors in Hollywood. Besides being an actor, he is also a director, producer, and musician. We have gathered some of the mind-blowing five interesting facts which will help you to know Keanu Reeve professionally and personally.
The 53-year-old actor, Keanu Reeves's professional career is successful just like many other blockbuster stars. He is also known as a true Hollywood eccentric who has garnered many oddball stories to write a biography. So today here is five facts which you should know about the blockbuster star, Keanu Reeves.
Five facts you need to know about Keanu Reeves
Keanu Reeves was born on September 2, 1964, in Beirut. His mother is English, and his father is an American from Hawaii. His parents were divorced when he was just three years and moved to Sydney, Australia with his mother before he arrived in New York. At the age of 9, Keanu got his first role in a theater production of Damn Yankees.
Keanu Reeves- Put his DREAM on internet in 15 second Squarespace's Super Bowl Teaser Ad
Well, it's true that the star is going to be in a Super Bowl LII ad. Squarespace announced that Keanu would star in the company's 30-second Super Bowl spot. Let's see the 15-second teaser right here:
Youtube: Squarespace- Make it with Keanu Reeves-Vision: 15
As now, Squarespace has employed A-list celebrities in the four straight Super Bowl commercial. The celebrities are- Jeff Bridges (2015), Keegan-Michael Key, Jordan Peele (2016), and John Malkovich (2017).
Keanu Reeves- Believes in Ghost
Keanu shared on Jimmy Kimmel Live that when he was a child, he has a real life paranormal encounter. He said, "I was probably 6 or 7 years old when I come from Australia to our new apartment. Our nanny, Renata was in the bedroom, and there was a doorway and all of a sudden the jacket comes waving through the doorway but has no visible body inside it."
Youtube: Five facts you need to know about Keanu Reeves
According to Keanu, the jacket was empty, and he is sure that nobody was inside that jacket. And after the supernatural experience, he still believes in ghost till the date.
Keanu Reeves- Once a highest paid actor
As of now, world's highest paid actor, Mark Wahlberg receives anywhere $68 as his total income. But Keanu Reeves remained one of the highest paid actors with a total income of $156 million for The Matrix Reloaded and The Matrix Revolutions.
Also read: Mark Wahlberg Regrets portraying porn star Dirk Diggler in Boogie Nights
Also read: Know Why Mark Wahlberg Demands More Than $1 Million for the re-shooting a scene for All The Money In The World?
[ CAPTION: Keanu Reeves in The Matrix ]
[ SOURCE: We Got This Covered ]
Keanu Reeves-Dreamed of playing hockey for Canada
Keanu was an ice hockey goalkeeper during his high school level. Although he did not do well in academic, he was excellent at sports. He became a successful hockey player and earned the nickname of The Wall. He dreamed of playing ice-hockey for Canada but due to his injury, he could not follow his career as a player.
[ CAPTION: Keanu Reeves dreamed of playing hockey for Canada ]
[ SOURCE: Unbelievable Facts ]
Keanu Reeves- Became a Smoker because of his role
Keanu didn't start smoking until he was 30 years old. And he blames it all the role that he played in a film- Feeling Minnesota. Keanu said that he picked up the life-threating habit while on the set.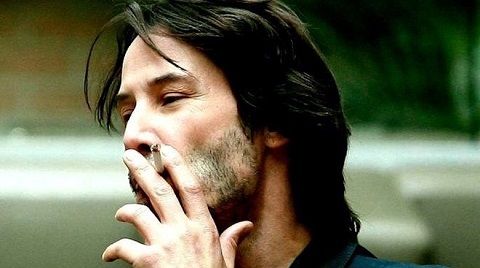 [ CAPTION: Keanu Reeves ]
[ SOURCE: www.looper.com ]
During shooting, Keanu's character has to smoke and the cigarettes stuck. At present, he described the smoking addiction like a prison. As we know that addiction is really a complex condition and very hard to get rid.