Five Facts you need to know about Jesse Watters
Five Facts you need to know about Jesse Watters
One of the Fox News journalists, Jesse Watters is best known for an American critic on the Fox News Channel. The 38-years-old journalist has been at Fox News since 2002 as a production assistant.
And at present, Jesse serves as the host and co-host of The Five on FOX News Channel (FNC). So today let's just know five interesting facts about the famous journalist of FNC, Jesse Watters. Just keep scrolling:
Five interesting facts about Jesse Watters
Jesse Watters was born on 9 July 1978 in Philadelphia, Pennsylvania, US. He attended William Penn Charter School and graduated with a Bachelor degree of Arts in history from Trinity College in Hartford.
After completing his college, he began working as a production assistant at Fox News, and soon after he moved to the production staff of The O'Reilly Factor.
Jesse Watters- Has his own TV show
The 38- year-old journalist, Jesse has his TV show- Watters World airs across the USA on the Fox News Channel. Before establishing his TV show, he appeared as a co-host of the show Outnumbered and has been the guest host for The Five on many occasion.
Youtube: Five Facts about Jesse Watters
Jesse Watters- Criticized for his racial segment
Watters has been dragged in several controversies. He was heavily criticized for his statement regarding his racial segment Watters' World. Watters once gave comments regarding the racism towards Asian Americans.
[ CAPTION: Jesse Watters ]
[ SOURCE: hollywoodlife.com ]
His racism segment became one of the popular Chinatown segments in which he asked about New York City's Chinatown's Chinese Americans regarding the martial arts, karate, and other things.
In April 2017, Watters again came into the headlines after commenting some of the harsh words towards Ivanka Trump.
SEE: Businessman Jared Kushner enjoying family life with wife Ivanka Trump and kids!!
Jesse Watters- Has a degree in History
During an interview, Jesse said that he initially wanted to go into finance after completing his college. He didn't do well in that field, and then he tried his luck in politics and later he got hired at Fox News.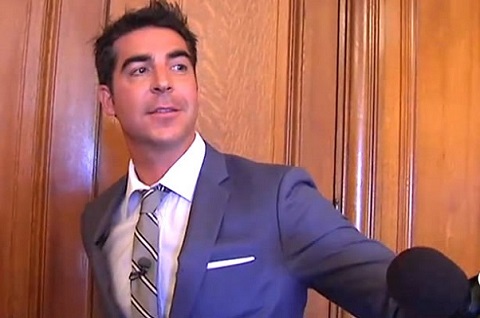 [ CAPTION: Jesse Watters ]
[ SOURCE: Conservative ]
His parents are liberal as they always support him and brought him up to have discipline and respect for other people. He added:
They didn't raise me to be who I am politically, but I think they gave me a lot of the values and the resources to kind of shape my own path.
Jesse Watters- Net Worth
Jesse has been doing his best in his field and has been collecting the huge sum of money. Reportedly Jesse Watters has estimated net worth of $1 million and earns around 300k per year. Jesse earns such a huge amount working on Outnumbered and Fox and Friends.
[ CAPTION: Jesse Watters ]
[ SOURCE: hollywoodlife.com ]
Jesse Watters- Living a happy married life with Noelle Watters
Jesse is living a happily married life with Noelle since 2009. The couple tied the knot in a private and intimate wedding ceremony in front of family members and few close friends.
Also see: Jesse Watters Married life: How much is Jesse Watters net worth? Know about his Career and Awards
[ CAPTION: Noelle Watters with her husband Jesse Watters ]
[ SOURCE: Daily Mail ]
Both Jesse and Noelle have managed to keep their marital status behind the limelight. The couple is blessed with twin daughters; Sophie and Elle. Despite having a heavy tight schedule, the couple still manages to spend quality time with their children.