A television host of HGTV's Fixer Upper, Joanna Gaines is also known for her techniques and skills in makeover and designing. So do you wanna know five interesting facts about Joanna Gaines? If yes, then here are five interesting facts about Joanna.
The lady with the American nationality, Joanna is genius behind Magnolia market, a furniture, and home décor shop. So, we present some of the five facts about Joanna Gaines. Keep scrolling.
Five facts about Joanna Gaines
Joanna Gaines was born on 19 April 1987 in Kansas, USA. She was born to a Korean mother and half German and half Lebanese father so she shared a mixed ethnicity of Korean, German and Lebanese. She attended Baylor University with a degree in Communication and after that, she moved to New York to completed her intern in design but at present, she is the famous television personality.
Joanna Gaines- Has a Boutique in New Work
At present, Joanna is renowned as the television personality but before she started her career working at All you can eat buffet. Joanna didn't have any of interior design background but with her huge dedication, she achieved her dreams.
[ CAPTION: Joanna Gaines has a Boutique in New Work ]
[ SOURCE: Parents Magazine ]
Joanna has never designed for home but she built up in herself about the passion for interior designs after she opened a boutique. As per customs recommendations, her designs are simple and fresh. She is also a specialist in making old and damaged things new.
Youtube: Five facts you need to know about Joanna Gaines;
Joanna Gaines- Love at first sight with Husband Chip
Joanna and her husband Chip tied the knot in 2003 and they are the parents of four children Emmie, Duke, Ella, and Drake. They attended the same university but they never met before or had never crossed their path.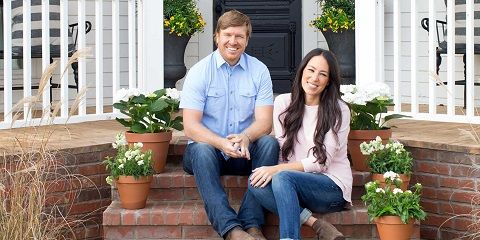 [ CAPTION: Joanna Gaines- Love at first sight with Chip ]
[ SOURCE: Country Living Magazine ]
Fortunately, they met each other at Joanna's father's automobile shop when Chip's car had a brake failure. Joanna said that when she met Chip for the first time she had a different feeling which was out of her sense. We think that Chip came for a repair of his car and found a love of his life.
Joanna Gaines- Passionate walking their client
Not only Joanna but also Chip is passionate about walking their clients through every aspect of designs and construction process. The couple really helps each other to turn their dreams into reality as they enjoy working with each other with the same perspective of goal in their mind.
[ CAPTION: Joanna Gaines ]
[ SOURCE: Odyssey ]
Well, their goal is to make Texas and all Waco communities more beautiful. So, we hope that with the joint effort, they will sure make their communities more beautiful as they are thinking of making it.
Joanna Gaines- A Baker at Heart
After judging Joanna's designs and touches, everyone cans say that she is deeply a creative person. The kitchens that she designs are a most remarkable transformation in the houses so it senses that she's using her creativity for whipping some of the kitchen creation.
[ CAPTION: Joanna Gaines ]
[ SOURCE: Pinterest ]
Joanna shared that she dreamed of opening a bakery since opening her Little Shop. She said: "After our move to the Silos, the little building on the front of the property was the perfect spot to finally open one."
Joanna Gaines- A Worrier
Joanna shared herself that she always has been worried in a relationship. She learned to fix, upgrading her own home but is very much concerned while doing it for someone else. She is worried about the budget, risk and if the project pays off. But Chip was there to clear all of her worries.