Felicity Rose Handley Jones, professionally known as Felicity Jones is an English actress. She began her professional acting at the age of 12 as a child actress in "The Treasure Seekers". She successfully won millions of hearts and now people are keen to know about Felicity Jones's dating life.
Felicity Jones started her professional career in 1996 and since then everyone is familiar with her professional life but she tries her best to maintain her private life and keep it out from media and away from paparazzi. However, she is not single, instead engaged.
Stay with us to know about Felicity Jones's dating life and the lucky guy. Moreover, we will also be discussing her personal life that includes her relationship, past relationships, affairs, and rumors too. Check it out:
Who is Felicity Jones dating?
Well, it might be sad news for the admirers and followers of Felicity Jones to know about her current relationship status. Back off boys! Jones is not single and she is totally enjoying her time with her fiancé Charles Guard.
Charles Guard is an English film director by profession. Now, Jones is engaged to her longtime boyfriend Guard and the couple got engaged in May 2017.
ALSO SEE: Fan's react to Felicity Jones' Rogue One: A Star Wars Story
Felicity Jones Source: Instagram
Back in December 2014, Jones opened up about the relationship and the struggle for finding out the perfect one during promoting her Oscar-winning drama "The Theory of Everything" is now engaged. During that time, she was single and was looking for her Mr. Perfect.
Soon after, Jones started dating Charles Guard since April 2015. After sharing two years of dating, the couple decided to enjoy engagement.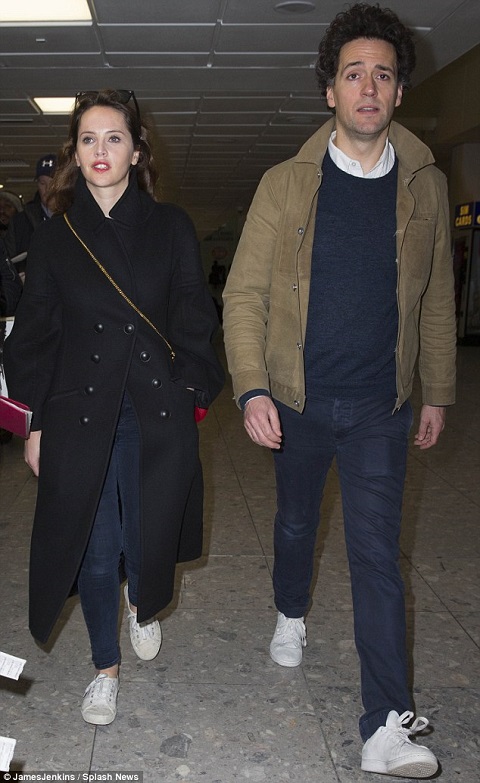 Felicity Jones and Charles Guard Source: DailyMail
This will be the first marriage for Felicity Jones and it looks like she is super excited about it. In the November 2015 issue of Harper's Bazaar, she openly talked about the impact of having children in her career.
Felicity Jones's Past Affairs
Before Charles Guard, Jones shared a long term relationship with Ed Fornieles. Sources claim that Jones met Fornieles while studying at Oxford University in England and the couple started dating throughout her 20s.
Ed Fornieles and Felicity Jones Source: DailyMail
Jones enjoyed a 10-year long relationship with artist and sculptor, Ed Fornieles. They lived together in Bethnal Green, East London, before breakup in 2014.
Though Jones confirmed about her split with Fornieles, she did not share the exact detail and reasons behind the split. And till now, it's still a mystery.