Natalie Wood, a well-known American actress, is remembered for her impressive roles in iconic movies such as "Rebel Without a Cause," "West Side Story," and "Love with the Proper Stranger." She was born on July 20, 1938, in the lively city of San Francisco, California. Her talent and performances on the big screen left a lasting impact on audiences.
Tragically, Wood's life came to a premature end on November 29, 1981. At the time of her passing, she was married to her husband, Robert Wagner. Despite her untimely departure, her cinematic contributions continue to shine, and her work is still enjoyed by countless fans all over the world.
Who Was Wood Married To At The Time Of Her Death?
Natalie Wood, who was married to Robert Wagner when she passed away, faced a tragic end on November 29, 1981, while on Santa Catalina Island in California, United States. Her death remains shrouded in mystery. In 1981, she was enjoying a vacation with her husband and fellow actor Christopher Walken on a luxurious yacht off the serene shores of Santa Catalina Island.
Late Natalie Woods with her husband, Robert Wagner
SOURCE: Robert Wagner Instagram @robertwagnerofficial
Unfortunately, a puzzling incident occurred, and Wood drowned in circumstances that raised numerous questions. Initially, her death was labeled as an accident on official records, but in 2012, after a fresh investigation into the case, her cause of death was changed to "undetermined." This uncertainty continued to surround her passing, and in 2018, her classification shifted once more, this time to a "suspicious death." While rumors have circulated, suggesting the involvement of Wagner in her demise, no concrete evidence has been presented to substantiate these claims.
Was Married To Robert Wagner
Wood's marriage to Wagner was a significant chapter in her life. They were married from July 16, 1972, until the unfortunate events of November 29, 1981. Interestingly, she had admired him since she was a child, and her childhood crush eventually blossomed into a deep and lasting romantic connection. Together, they became a symbol of Hollywood's golden era, capturing the hearts of fans around the world.
Wood and Wagner's wedding was an intimate affair, with only a select few friends and family members in attendance. The ceremony itself was a unique and memorable experience, held aboard a charming 55-foot yacht named the Ramblin' Rose. The picturesque setting of the yacht added a touch of elegance to their union, creating a truly special and unforgettable moment in their lives.
Had Married Wagner Twice
Wood's romantic journey with Wagner was a tale of two unions. Their first marriage took place on December 28, 1957, in the scenic locale of Scottsdale, Arizona. Natalie was just 18 years old at the time, while Wagner, a dashing figure, was 26 when they went on their first date, which had happened a year before their wedding, which was organized by the 20th Century Fox. Unfortunately, they decided to part ways, leading to their divorce on April 27, 1962. However, fate had more in store for them.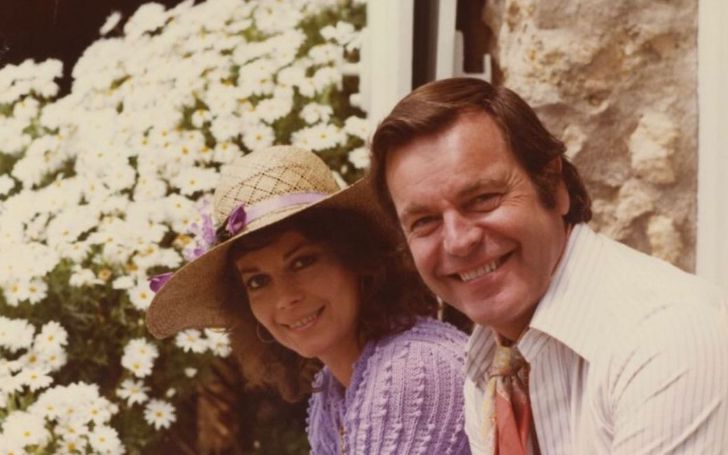 Natalie Woods and Robert Wagner posing for the picture.
SOURCE: Robert Wagner Instagram @robertwagnerofficial
In a surprising twist, Wood and Wagner found their way back to each other, and on July 16, 1972, they embraced matrimony once again. This second marriage marked a significant chapter in their lives, allowing them to rekindle their deep connection. Their love story had its roots in Hollywood, specifically at the 20th Century Fox studio, where she first laid eyes on him.
It was during the production of "Miracle on 34th Street" that their paths crossed. As the story goes, Natalie turned to her mother after seeing Wagner and confidently declared, "I'm going to marry him, " as mentioned in an article from The Things. Little did she know that her proclamation would set the stage for a romantic journey that would span decades and captivate the hearts of many.
What Had Caused Marriage With Wagner To Fail The First Time?
Natalie Wood's first marriage with Wagner encountered a heartbreaking setback that led to its eventual failure. The cause of their separation was a painful one – his infidelity. The trust between them was shattered when the late actress discovered his affair with David Cavendish, his English butler. This distressing incident unfolded one night while she was peacefully sleeping, as mentioned in an article from the Daily Mail.
To her shock and dismay, Wood woke up to find Wagner absent from their bed. Worried and confused, she embarked on a search for him. The painful truth was revealed when she stumbled upon him in an intimate situation with the butler. This heart-wrenching betrayal left a lasting impact on their relationship, ultimately leading to their divorce. The pain of that moment remained with Natalie and became a significant factor in the end of their marriage the first time.
About Wood's Marriage With Richard Gregson
Wood's marriage to British agent-producer Richard Gregson marked a significant chapter in her life. They tied the knot on May 30, 1969, and their union lasted until April 12, 1972. This marriage was the second for both Natalie and Richard, each bringing their unique experiences and perspectives into the relationship. Their wedding day was made even more special by their choice of a Russian Orthodox ceremony, held at the Holy Virgin Mary Church in Los Angeles. This added a touch of cultural richness to their celebration.
Natalie Wood and Ex-Husband Richard Gregson at their wedding
SOURCE: Natalie Wood: What Remains Behind
Notably, Gregson was nine years older than Wood when they exchanged their vows, bringing a sense of maturity and life experience to their partnership. Their time together was filled with both joyful moments and challenges, as they navigated the complexities of their respective careers and personal lives.
The Cause Behind Gregson's Divorce
The marriage between Natalie Wood and British agent-producer Richard Gregson faced a difficult challenge that eventually led to their divorce. Their relationship was put to the test when he became involved in an affair with the actress's secretary. However, the underlying issues went beyond just this extramarital affair. Their daughter, Natasha, inadvertently played a role in the breakdown of their marriage.
Wood was deeply devoted to her role as a mother and found immense joy in caring for Natasha. This strong bond between mother and daughter sometimes left Gregson feeling left out and overshadowed. He began to feel that he was losing his place in Natalie's heart to their daughter.
As a result, Gregson sought companionship and connection elsewhere, leading to the affair with Wood's secretary. The strain caused by these complex emotions and circumstances ultimately became too much for their marriage to bear, and they made the difficult decision to part ways. The challenges they faced serve as a reminder that even the strongest bonds can be tested by the complexities of life and relationships.
Controversial Relationship With Frank Sinatra
Of all the men, Wood had been with or linked to, the one with Frank Sinatra is the most disturbing. She had a sexual relationship with him when she was just 15 years old. What makes it even worse is that her mother was the one who arranged for this to happen.
Wood's perplexing connection with Sinatra uncovers a deeply unsettling episode that raises questions about the dynamics within her family. It's truly surprising to learn that her mother played a role in engineering this unusual relationship. At a mere 15 years old, she found herself embroiled in a situation that defies expectations and challenged our understanding of responsible parenting.
The fact that Wood's mother orchestrated this unsettling encounter highlights the complexities and potential vulnerabilities young individuals can face, even within their closest circles. The emotional impact of this experience likely left a lasting mark on her, shaping her perceptions of trust and relationships as she navigated the world of fame.
Other Relationships
Natalie Wood's romantic history reflects a diverse array of relationships that spanned her career. Notably, she shared her heart with several prominent figures, including Donald Wilson from 1973 to 1977 and Jerry Brown in 1971. Her love life was also intertwined with notable names such as Henry Jaglom, Michael Caine, Arthur M. Loew Jr., and Ladislav Blatnik in the mid-1960s.
Wood's dating history reveals connections with a range of influential men, such as David Niven Jr., Tom Courtenay, Sandy Whitelaw, and Warren Beatty in the early 1960s. Tony Curtis and Conrad Hilton Jr. were also part of her romantic journey during this period. In the late 1950s, Wood was linked to Robert Vaughn, Lisa Marie Presley's father Elvis Presley, Scott Marlowe, and Dennis Hopper, among others.
These relationships provided insight into Wood's personal life, highlighting her connections with influential individuals from the entertainment industry. Furthermore, encounters with figures like Steve McQueen, Lance Reventlow, and Adam West showcase the diverse array of people who intersected with her life. Her romantic escapades offer a glimpse into the complexities of fame, relationships, and the intriguing dynamics of Hollywood.
Check Out Hitberry for more