JC Chasez who rose to stardom as one of the two lead vocalists of the boy band NSYNC came into media limelight recently for something that brought smiles and tears both. The news that the singer, songwriter, JC Chasez married his girlfriend this week spread all over the media like a fire.
In the midst of all the fake rumors about his wedding, we bring you the true story behind all these news.
JC Chasez married his girlfriend?
The reports suggesting that the NSYNC' ex-singer and occasional actor, who is reportedly single, has secretly gotten hitched to his long-term girlfriend Kathryn Smith.
Some of the stuff regarding their relationship was seen on Twitter. The tweets hinting towards his hushed up marriage were the results of the false rumors spread by some outrageous gossip magazines.
Kathryn and Chasez were dating each other for two years but the couple split in 2013 after two years of their romantic fling. They have moved on and are leading separate lives.
CAPTION: JC Chasez and Kathryn Smith
SOURCE: Zimbio
After the rumor surfaced, Chasez's Twitter flooded with tweets from his fans and followers. It was reported that the singer was spotted wearing his wedding ring and the blissful couple exchanged vows in an intimate morning ceremony at a secret location in a presence of a few close friends and family members.
The fake rumors caused quite an outrage among his fans. But the truth is, the singer has not married anyone and he is currently enjoying being single.
The former NSYNC lead vocalist recently performed at bandmate Lance Bass's wedding. The wedding between Lance and Michael Turchin, which took place in February this year, was the first ever televised gay wedding in history.
JC Chasez' Past Affairs
The successful musical artist and record producer, who has dated a number of girls in his past, has hardly given us any hint about his personal life. As per various sources and reports, JC was romantically involved with eight different women including Eva Longoria.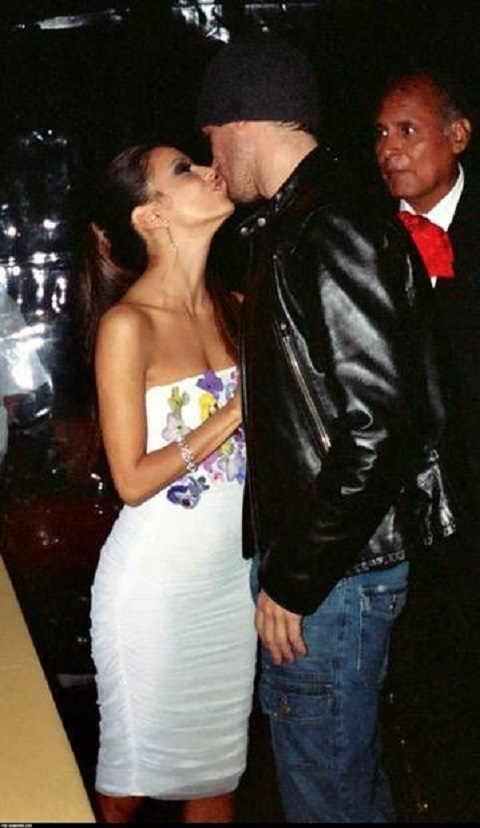 CAPTION: Eva Longoria and J. C. Chasez
SOURCE: FamousFix
Beside that the famous actor J.C Chasez has dated Emmanuelle Chriqui in between 2001 - 2002, Bobbie Thomas in between 1997 - 2001 and Nikki Deloach in between 1992 - 1997.
Moreover, J.C had encounters with Tara Reid in 2002, Stefani Morgan in 2005, and Rachel Sterling in 2003 - 2009.
More about JC Chasez
Chasez performed like a true star (which he is) for the newly-weds first dance in Lance Loves Michael special wedding. He sang many of his hit songs on a special day for his best friend.
The wedding was a major event which saw the presence of the four out of five former band members of NSYNC. The absence of one of the two lead singers, Justin Timberlake, was felt the during the whole occasion.
SEE: 36 Years Actress Jessica Biel's Married Relationship With Husband Justin Timberlake; The Couple Shares a Child
When Lance, the happy groom, was interviewed about Chasez's reaction when he was asked to sing at his wedding then Lance replied:
JC just laughed.

He's like, 'Wait a minute, so now you want me to be a wedding singer now?' But of course, he loved it. To me, JC has the best voice I've ever heard in my entire life, so to have him sing there and him being one of my best friends and brothers, it was incredible.
Ten Facts about JC Chasez
1. JC Chasez was born on August 8, 1976.
2. JC Chasez was born in Bowie, Maryland, United States.
3. JC Chasez's parents are Karen Chasez and Roy Chasez.
4. JC Chasez started his career in 1989 at the age of 13.
5. JC Chasez stands height of 1.8 m.
6. JC Chasez weighs around 151 lbs.
7. JC Chasez's birth sign is Leo.
8. JC Chasez supports female music producers.
9. JC Chasez's is not very active on social media.
10. JC Chasez's net worth is around $16 million.