Chris Cuomo is a famous American television journalist currently working for CNN where he previously got involved with the ABC News. Cuomo obtained his Juris Doctor (J.D.) from the Fordham University where he is also a licensed attorney.
Recently he has been drawn into the controversy after his tweet where he targeted the transgenders.
Chris Cuomo is drawn into Controversy
Chris Cuomo is active on Twitter since 2009 and It's not a newer fact to be dragged to controversies for a tweet, however, it was the very first time for a CNN reporter.
Source: Instagram
In his tweet, he said parents whose daughters don't want to see transgender boy's male genitalia in the locker should "teach tolerance" and he started getting negative feedbacks. He got a re-tweet like,
"What do you tell a 12-year-old girl who doesn't want to see a penis in the locker room?"
Cuomo is a son of the former New York Governor Mario Cuomo and a brother of the current Governor Andrew Cuomo. It provided him an identity apart from through his own profession. So he gained a lot of followers on Twitter.
He started getting lots of re-tweets for his point of view and it ultimately made him delete his tweet right after that. However, he couldn't do it before it spread over the social media.
Also Read: CNN News Anchor Chris Cuomo and wife Cristina Greeven getting a divorce after 14 years of married life together
Chris later explained that the matter isn't about the transgender males in the bathroom, rather it is about the overprotective mother and father that were teaching their children to scare off those different than them. Even after deleting the tweet, he continued to defend his stance.
ref="https://twitter.com/ChrisCuomo/status/834870680445448196
Chris Cuomo's Career in Journalism and his Net Worth
Cuomo started his career in journalism after completing his graduation. And during his early years, his appearances included social and political issues in CNBC, MSNBC, and CNN.
Later, he worked as a correspondent for the Fox News Channel and he afterward served as a political policy analyst. He also worked at Fox Broadcast Network's Fox Files, he covered varieties of stories focusing on controversial social issues.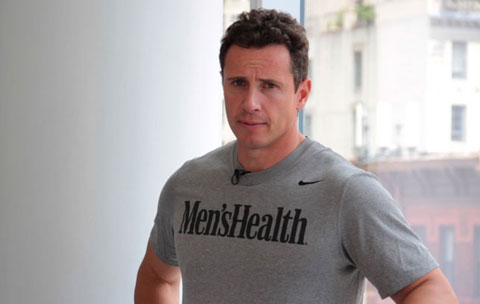 The CNN anchor Chris Cuomo
Source: P interest
Cuomo served as the news anchor for Good Morning America from September 2006 to December 2009. It gave him the greater identity as a news anchor. During his career, he has covered a number of wars and terrorism attacks from various countries like Afghanistan, Pakistan, and Afghanistan.
Cuomo started to work with the CNN since February 2013. He also started co-hosting the morning show at CNN whereas he made his debut as field anchor on February 8, 2013, with an episode of Piers Morgan Tonight.
https://www.youtube.com/embed/Ets4SspV8rs
The talented and experienced American journalist managed to keep his stardom in his field whereas he also earned a good amount of money. As of 2015, his net worth is around $7 million.
He is one of the highest paid news anchors who earned around $2.5 million annually.