The American YouTube personality, vlogger, filmmaker, and co-founder of the defunct multimedia company Beme, Casey Neistat is living a blissful married life with wife, Candice Pool. The couple who has already welcomed a daughter is now expecting another child in October 2018.
The YouTuber who has been able to collect more than 9 million subscribers and around 2.30 billion viewers in his channel has had an on and off relationship with his partner, Candice Pool. Let's look at what the couple's relationship is going now?
Casey Neistat expecting the third child
The YouTuber, Casey who is already the father of two children: son, Owen who was welcomed at the age of 17 with his then-girlfriend Robin Harris and daughter, Francine with current wife, Candice. He is again expecting the baby with Pool. The news of his wife's pregnancy was officiated by himself on his Twitter. And this video also exists on YouTube as well.
SEE: Casey Neistat's Net Worth: His Sources of Income, House, Cars and more
i don't like keeping secrets -- https://t.co/2W2CFYfcXs

— Casey Neistat (@CaseyNeistat) June 6, 2018
As per the video, the couple will be welcoming their child in October 2018. In the video, Casey has revealed that the baby is in very healthy condition. The couple has not planned the name of their baby but their daughter, Francine has named their upcoming baby as Watermelon.
Although the pair shared their happiness and excitement of the upcoming baby, they didn't reveal the gender of the baby.
Casey Neistat's On-Off Relationship with Candice Pool
Talking about Casey and Candice's relationship, their love story started back in 2005. After dating for a couple of months, the pair tied the knot in the same year in Houston, Texas in an intimate ceremony. However, their relationship didn't last more than a few months.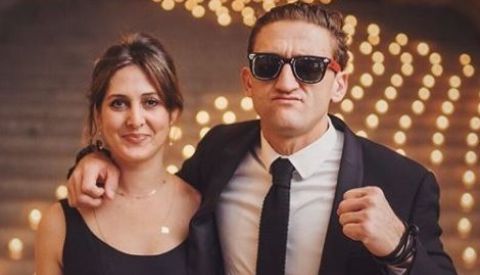 CAPTION: Casey Neistat with wife, Candice Pool
SOURCE: Daily Entertainment
Again after the six years of their separation, the couple again hooked up in a romantic relationship. After the two years of a dating relationship, the couple got engaged on February 18, 2013. And following the same years just after ten months, the couple shared the marital vows in Cape Town, Africa on December 29, 2013.
This time the couple is going very strong. And now, the happy family of three is currently residing in New York City, US. Hope they will be able to maintain the same faith forever.
CAPTION: Casey Neistat with wife, Candice Pool and their daughter
SOURCE: Celebrity Woods
Ten Facts about Casey Neistat
1. Casey Owen Neistat aka Casey Neistat was born on March 25, 1981, Gales Ferry, Connecticut, US.
2. Casey Neistat resides in New York City, US.
3. Casey Neistat is not graduate as he dropped out of the high school at the age of 17.
4. Casey Neistat started his professional career in 2001.
5. Casey Neistat has an estimated net worth of $12million.
6. Casey Neistat also worked as a dishwasher before jumping into youtube career.
7. On September 11, 2001 attack, he was living few blocks away from World Trade Center.
8. Casey Neistat became a father at the tender age of 17 with his then-girlfriend Robin.
9. Casey Neistat sold an eight-episode TV series The Neistat Brothers for $2 million to HBO.
10. Apart from being a YouTuber, he is also a TV commercials director.