An American singer,

Britney Spears

celebrated her first love anniversary with her boyfriend,

Sam Asghari

who is 13 years junior to her.
Love has no bounds and it sees no age gap. Even being more than a decade older than Sam, Britney is deeply in love with him. Let's look at the romantic life of Britney Spears and her boyfriend, Sam Asghari.
Britney Spears celebrated One Year Anniversary with Sam Asghari
We all know that the famous singer, Britney Spears is dating model, Sam Asghari. Recently, it has come to the news that the couple has completed their first year together. Britney has posted about her one year love anniversary through her Instagram account.
Also, see: Britney Spears Shows her Sexy Figure in Skimpy white Bikini after announcing her Los Vegas Show
[ CAPTION: Britney Spears and boyfriend Sam Asghari celebrating their first Anniversary]
[ SOURCE: Instagram ]
In the post, we can see the picture of them cuddling up as they stand on the top of a rock. The post is also captioned that she has been with Sam for one year now. And, every day he has been inspiring her to be a better person. She also added that she feels as the luckiest girl in the world with Sam!
The couple's relationship details
If we start from the beginning of their love story, then the couple first each other on the sets of Slumber Party music video in October 2016. The couple was filming a scene in the hallway together.
Youtube: Music video of Slumber Party;
According to an interview with Britney, she told that the pair were forced to talk to each other while waiting for the shooting. The couple had only 20 minutes to talk and in that time, they had to crack up a conversation. Although both of them exchanged their number, Britney had just put his number on her bag. But, after 5 months, when clearing up her bag, she found his number.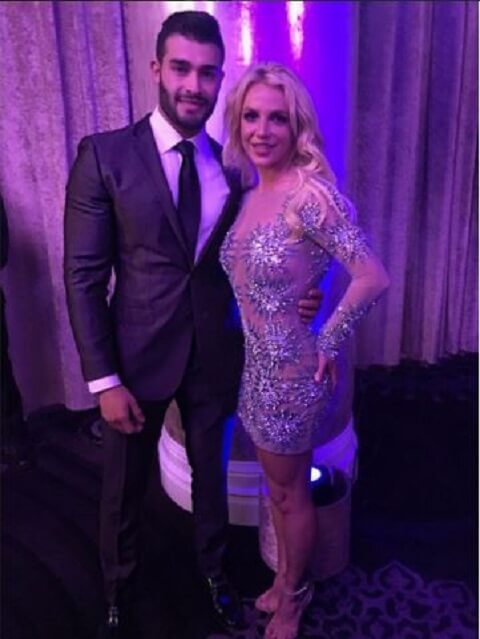 [ CAPTION: Britney Spears and Sam Asghari together at Pre Grammy Gala ]
Moreover, she added that she found Sam really cute. Then she decided to call him and after that slowly and steadily both of them decided to take their friendship to a new level and started dating each other since February 2017.
[ CAPTION: Britney Spears with her boyfriend Sam Asghari ]
It is said that the difference in age gap creates more love in the couple. The saying has been justified by the romantic relationship between Britney and Sam. Just a year into their relationship and they have developed a strong connection.