Justin Timberlake is a famous American guy who sings songs, writes songs, makes records, and even acts in movies. He's got some songs that lots of people like, such as "CAN'T STOP THE FEELING!", "Mirrors," "Cry Me A River," and "What Goes Around...Comes Around." These songs are special to many folks because they sound good and make you feel things. He has been making music and entertaining people for a long time.
Timberlake is married to a famous actress Jessica Biel, and they make a really lovely couple. But before he met his wife, he had been involved with quite a few women. It's quite common for people to have different relationships before finding the right person to settle down with.
Happily Married To Jessica Biel
Justin Timberlake and Jessica Biel got married on October 19, 2012, and they did it in a really special way. They had their wedding at a beautiful place called the Borgo Egnazia resort in Puglia, Italy. It was so secret that not many people knew about it at the time.
Timberlake and Biel's wedding was quite an adventure for their guests. Imagine being told to fly to Frankfurt and then not knowing exactly where you were going next! Once they got to Frankfurt, they were given the exciting news that they were heading to the beautiful south of Italy, Puglia, where the wedding would take place. This surprise added an extra element of excitement to the celebration.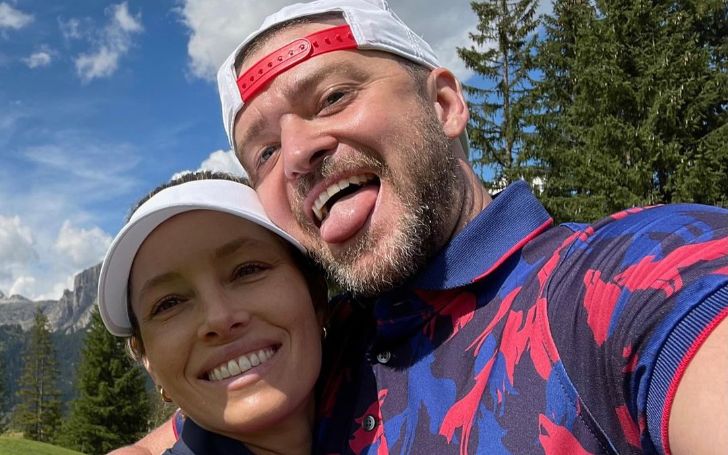 Justin Timberlake with his wife, Jessica Biel SOURCE: Jessica Biel Instagram @jessicabiel
Timberlake and Biel's wedding guest list was star-studded, filled with about 100 celebrities, including famous folks like Jimmy Fallon, Andy Samberg, and Timbaland. It must have been an unforgettable gathering with so many talented and well-known people celebrating the love between them.
Jessica and Justin's engagement story is quite charming. It happened in December 2011 during one of their annual vacations to Montana. They'd spent the day snowboarding together. When they went to check on some property, he surprised the actress most romantically. He suddenly dropped down on one knee, sinking into the deep snow, and popped the question.
How Did Timberlake And His Wife Love Story Begin?
Timberlake and Biel's love story began in a pretty random way. They first crossed paths at a birthday party, that he was throwing for his friend, back in 2007, and something just clicked between them. The singer said, "We met and got talking." After that initial meeting, he wanted to see her again. So, he asked his friend if it was okay to call her up and invite her out.
It's kind of like a modern-day love story, where they had a chance encounter and then took a chance on each other. That birthday party turned out to be the start of something really special for them.
The Cheating Story Involving His Wife
Justin Timberlake's "cheating scandal" in 2019 made headlines and caused quite a stir. It happened when he and actress Alisha Wainwright were working on a movie called "Palmer." They were in New Orleans and decided to grab drinks at a bar with some other people from the movie. The problem was, that some photos captured them looking close and cozy.
Alisha Wainwright, the woman whom Justin Timberlake was allegedly involved with SOURCE: Allure YouTube Channel
The photos that came out from that night in 2019 did make it seem like Timberlake and his co-star, Wainwright, were getting a bit too close for comfort. They were photographed touching hands several times, and at one point, the actress even rested her hand on Biel's husband's knee, as reported in an article from Suggest. People naturally started wondering what was going on between them.
Timberlake later cleared the air and confirmed that nothing romantic had happened between him and Wainwright that night. After the night out, he went home by himself to get some rest. He felt bad about the whole situation, and he publicly apologized. He expressed regret for his behavior and admitted it wasn't the kind of example he wanted to set for his son. He also apologized to his wife Biel and family for putting them through all of it.
Had Briefly Split At One Point
Jessica Biel and Justin Timberlake's love story had its ups and downs like many relationships do. They briefly split on March 10, 2011, and it was a tough decision, but they both felt it was the right thing to do. There were no hurt feelings, which is pretty remarkable. It was a mutual choice, and they both recognized that it was time for a change.
Even though Biel and Timberlake weren't together romantically during that time, they managed to stay friends. Sometimes, taking a break can give you a fresh perspective, and that's exactly what happened here. Eventually, they found their way back to each other, and they were able to rebuild their relationship.
Shares Two Sons With Biel
Justin Timberlake and Jessica Biel are proud parents to two lovely sons. Their oldest son, Silas Randall Timberlake, came into the world on April 8, 2015. It's sweet to know that they chose a meaningful name for him. He was named after Justin's maternal grandfather, Bill Silas Bomar, which is a wonderful way to honor family ties and keep those special connections alive through the generations.
Justin Timberlake son's, Silas Randall Timberlake and Bill Silas Bomar SOURCE: Justin Timberlake Instagram @justintimberlake
Justin and Jessica welcomed their youngest son, Phineas Timberlake, in the summer of 2020, as reported in an article from People. It seems like they are determined to give their children a private and low-key upbringing, as they haven't shared much about their sons with the public. While they do occasionally post on Instagram, they've made sure to keep their kids' faces hidden, respecting their privacy.
Justin's High-Profile Relationship With Britney Spears
Timberlake and Spears had a high-profile and much-talked-about relationship. Their love story began when they were just kids in the early '90s and met on "The Mickey Mouse Club." They were both young and rising stars at the time. In 1999, they confirmed to the world that they were officially dating, and this news made headlines everywhere.
Justin and Britney's relationship had its ups and downs. They were together for several years, but unfortunately, they decided to split in 2002. The split happened following Britney's cheating on him. He even did a famous interview with Barbara Walters where he talked about their breakup.
During that same interview, Justin performed a song called "Horrible Woman," which seemed to express his feelings about the breakup. The lyrics hinted at some drama and disappointment but also a desire to move on from it all.
The Songs From Spears Breakup
One of the most talked-about things that came out of Justin Timberlake and Britney Spears' breakup was the songs that were inspired by it. Timberlake's song "Cry Me a River" became a big hit, and it was widely believed to be about his relationship with Spears. In the music video for the song, he even featured a Britney look-alike and recreated scenes that seemed to reference their split.
Spears also used her music to express her feelings about her past relationship with Timberlake. She released a song called "Everytime," which has long been speculated by fans to be about him. In the lyrics, it seems like she's apologizing and reflecting on their time together. Music can be a powerful way for artists to share their emotions and experiences with the world, and in this case, it allowed her to open up about her relationship and perhaps offer some closure.
Has Been Linked To Many Women In The Past
Timberlake has had several relationships over the years. Notable ones include Cameron Diaz (2003 - 2006), Janet Jackson (2002), Alyssa Milano (2002 - 2003), Jenna Dewan (2002), Tonya Mitchell (1998 - 1999), Veronica Finn (1996 - 1998), and Danielle Ditto (1994 - 1996). He's also had encounters with Lindsay Lohan (2006), Tatyana Ali (2003), Emma Bunton (2003), Nicole Appleton (2000), and Fergie (1998).
There have been rumors about Timberlake's romantic involvements as well. He's been rumored to have hooked up with Thaila Ayala (2013), Olivia Wilde (2011), Olivia Munn (2010), Rihanna (2009), Scarlett Johansson (2007), Staci B. Flood (2003), Alicia Keys (2002), and Beyoncé (2001). Celebrity relationships often capture the public's attention, and the singer's dating history has certainly been a subject of interest over the years.
Check Out Hitberry for more