Josh Hartnett is a popular American actor recognized for his roles in various movies such as "Cracker: Mind Over Murder," "Lucky Number Slevin," "30 Days of Night," and "Black Hawk Down." With a net worth of $25 million, he has achieved significant success in the entertainment industry.
Hartnett's talents have captivated audiences worldwide, showcasing his versatility and dedication to his craft. Notably, he is married to the talented actress Tamsin Egerton, adding a touch of Hollywood romance to his already impressive journey. Together, they form a dynamic and creative couple, contributing their talents to the world of acting.
A Married Man
Josh Hartnett is now a happily married man, having exchanged vows with his longtime partner, Tamsin Egerton on November 5, 2021. Their journey to marriage was a beautiful ten-year romance that began back in 2012 when they first started dating. The couple opted for an intimate and understated wedding, choosing to celebrate their love in a low-key private ceremony.
Josh Hartnett with his wife, Tamsin Egerton
SOURCE: Tamsin Egerton Instagram @tamsinegertonofficial
The charming Old Marylebone Town Hall was the chosen venue, where Hartnett and Egerton officially became husband and wife. The event was nothing short of special, as it took place in the exclusive Soho Room of the venue, a space designed to accommodate a maximum of just twelve people. This ensured that the ceremony was a deeply personal and cherished affair, shared only with their closest loved ones.
How Did Hartnett And Egerton's Love Story Start?
Hartnett and Egerton's love story began to unfold when they first crossed paths on the set of their film "The Lovers" in 2011. Little did they know that this initial encounter would mark the start of something truly special. However, it wasn't until the following year, in 2012, that news of their budding romantic relationship surfaced. Although it wasn't the smoothest start due to various issues surrounding the movie's production, their connection managed to withstand the challenges.
"The Lovers" faced a series of obstacles from the start. As mentioned in an article from Nicki Swift. Neve Campbell's departure led to Egerton joining the cast. The production paused due to the Australian company's liquidation, causing a delay. After four years, the film premiered at the 2014 Cannes Film Festival. Interestingly, it went by different names like "Singularity," "Time Traveller," "The Lovers," or "La Prophétie de l'anneau." This journey of challenges and changes adds depth to the film's unique story. The only good thing to come out was Hartnett's relationship.
Share Three Kids With His Wife
Hartnett and his wife, Egerton, are the proud parents of three children, each a precious addition to their family. Their eldest, a daughter, was born in 2015, bringing immeasurable joy into their lives. Just two years later, in 2017, they welcomed their second child, further solidifying their bond as a loving family. The joy continued to expand with the birth of their third child in 2019, completing their heartwarming family unit, as mentioned in an article from People.
Tamsin Egerton with her son
SOURCE: Tamsin Egerton Instagram @tamsinegertonofficial
Despite his prominence in the entertainment world, Hartnett has made a conscious decision to keep their children's lives away from the spotlight, valuing their privacy and choosing not to disclose details about them to the media. This protective approach allows their children to grow and flourish in a nurturing environment shielded from the pressures of fame, emphasizing their commitment to being devoted and caring parents.
A Bit About Hartnett's Wife, Tamsin Egerton
Egerton, a talented British actress, has graced the screen with her presence in several well-known films, showcasing her acting prowess. Some of her notable works include roles in movies like "The Brothers Grimsby," "Keeping Mum," and "Love, Rosie," where her performances have left a lasting impact on audiences. Interestingly, her journey in the film industry also led her to a connection with the fantasy epic "Eragon," though her scenes didn't make it into the final cut.
Beyond her acting career, Egerton has also been linked to some intriguing off-screen tales, such as setting up Talulah Riley with Elon Musk in a twist of fate. Her formative years saw her attending Ditcham Park School near Petersfield in Hampshire, where she laid the foundation for her future successes. Before her rise to fame, she also had a brief but meaningful job as a babysitter, caring for three children.
Who Did Hartnett Date Before Egerton?
Before his relationship with Egerton, Josh Hartnett was briefly involved with actress Amanda Seyfried. Their romance sparked in 2012 and lasted for a few months. The two found each other after being introduced by mutual friends, and their connection seemed promising.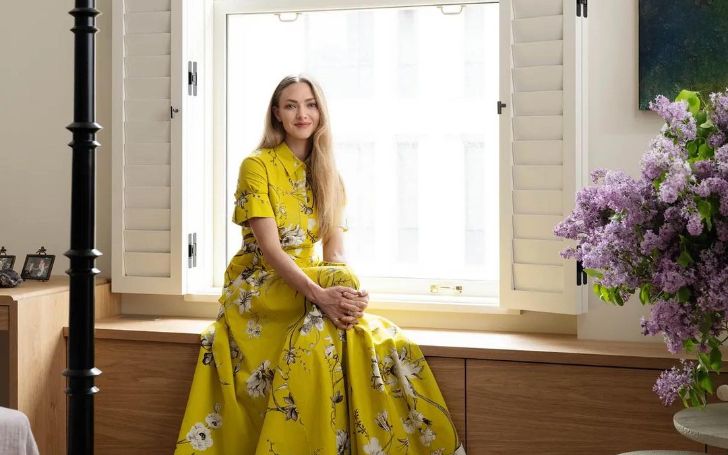 Josh Hartnett's ex-partner, Amanda Seyfried
SOURCE: Amanda Seyfried Instagram @mingey
However, the demands of both Hartnett and Seyfried's bustling schedules and the challenges that come with sustaining a long-distance relationship eventually led them to make the difficult decision to part ways. Despite the relatively short duration of their relationship, the fond memories they shared and the lessons learned from their time together likely contributed to their personal growth and future perspectives on love and commitment.
Famously Dated A Lot Of Actresses
Hartnett's romantic life has often caught the attention of the public, especially due to his relationships with numerous actresses. Reflecting on his past, she expressed his view on dating co-stars, considering it a dignified approach. He shared that his involvement in films introduced him to significant individuals in his life. However, he didn't shy away from acknowledging that these relationships didn't always lead to positive outcomes.
Some brought about unfortunate consequences that affected everyone involved, casting a shadow over those experiences. On the flip side, some relationships remained wonderful from start to finish, bringing joy and happiness. Hartnett's candid perspective reminds us that everyone is prone to mistakes, particularly when it comes to forming personal connections with people they collaborate closely with.
Other High-Profile Relationships Of The Actor
Josh Hartnett's romantic journey included several high-profile relationships beyond his association with his wife, Tamsin Egerton. Notably, he had an on-again, off-again relationship with Danish supermodel Helena Christensen spanning from 2007 to 2009. Although they were seldom spotted together in public, their split was said to be friendly, and they managed to preserve a positive rapport after parting ways.
Another noteworthy relationship was with the acclaimed actress Penelope Cruz in 2007. Hartnett and Cruz's paths crossed at an after-party for the Academy Awards, sparking a connection that endured for several months before eventually coming to an end. He also briefly dated Australian supermodel Gemma Ward in late 2007 after their paths crossed in vibrant New York City. Despite the initial spark, their relationship only lasted for a few months.
Similarly, during the filming of "30 Days of Night" in New Zealand in 2006, Hartnett had a brief romance with actress Amber Sainsbury. One of his more widely recognized relationships was with Scarlett Johansson, whom he met while working on "Black Dahlia" in 2005. Their connection grabbed headlines, but by 2007, their busy schedules led them to call it quits.
Hartnett's romantic history showcases a variety of high-profile relationships within the entertainment and modeling realms. His dating roster includes actresses like Julia Stiles, Ellen Fenster, Estella Warren, Natalie Imbruglia, and Izabella Miko, all of whom he dated in 2001. Additionally, his love life intersected with Daria Werbowy in 2004. Furthermore, he briefly crossed paths with supermodel Gisele Bündchen in 2000, a notable encounter in his journey of love. His first known relationship was with Laura Harris, whom he dated from 1996 to 1997.
Few Rumored Relationships
In addition to his confirmed relationships, there have been a few rumored romantic connections in Josh Hartnett's life. In 2007, speculation swirled about a possible relationship between him and Sienna Miller, sparked by their collaboration on the movie "Camille." Although the exact nature of their bond remained uncertain, their on-screen chemistry fueled the rumors.
The following year, in 2008, rumors circulated about a potential romance between Hartnett and British-American actress Mischa Barton. The buzz suggested that their connection blossomed after they were slated to work on a joint project that unfortunately didn't come to fruition. Another rumored liaison for him was Danish model Katharina Damm, with whom he was linked during the summer of 2010. While these rumored relationships may have captured public attention, they also underline the intrigue and fascination that often surrounds the personal lives of celebrities like him.
Check Out Hitberry for more