After Long List of Relationships, Who is American Actor Zac Efron Currently Dating? All the Details
After Long List of Relationships, Who is American Actor Zac Efron Currently Dating? All the Details
One of the most handsome guys with a charming personality, Zac Efron is an American actor and singer who rose to prominence height with his High School Musical franchise in the 2000s.
It's his look, blue eyes and killer abs which attracts many of his female fans heart. His fans are always wondering who Zac Efron is dating? Are you all curious to know who the handsome hunk is dating currently? Then keep scrolling!
Zac Efron Past Affairs and Relationships
After stealing huge fans hearts as a young teenager on Disney Channel, the worldwide crush on Zac Efron seems to be growing. First, he began his acting career with a fresh-faced Troy Bolton in High School. His first public relationship was with Vanessa Hudgens, one of his co-star from High School.
Also Read: Coachella Queen Vanessa Hudgens in Romantic Date with Boyfriend Austin Butler in California
[ CAPTION: Zac Efron and Vanessa Hudgens ]
[ SOURCE: Capital ]
The duo first met on the set of Disney movie in 2005 and was together for five years. Later they separated citing long distance as the main root of the breakup. Vanessa was jealous in the relationship when it came to deal with Efron's several fan followers.
Zac Efron Dating Timeline: Girlfriends After Vanessa Hudgens?
In 2012, Efron was spotted in L.A. along with Lily Collins as the couple was seen holding hands at a mutual friend's party. Just a week later after the party on the occasion of Valentine Day, they were seen appending time together at the Soho House.
You May Also Read: Lily Collins is the voice of Peter Pan audiobook
[ CAPTION: Lily Collins joins Zac Efron in Ted Bundy biopic ]
[ SOURCE: Twitter ]
Although both Efron and Lily were seen spending most of their time together their relationship was never confirmed. But the pictures of watching the movie together and holding hands made public to believe that the couple was dating each other.
Additionally, Zac was seen with Michelle Rodriguez on a vacation in Italy. They were seen kissing and cuddling with each other on a boat enjoying the beautiful weather. Later they were seen partying together in Ibiza, a club throughout the night.
Zac Relationship with Sami Miro
The youngest actor, Zac confirmed his relationship with Sami Miro, a designer, and a stylist. They were first seen holding each other's hand at a Halloween party held in L.A. Both of them were seen sharing the pictures together at their social media as well.
[ CAPTION: Zac Efron and Sami Miro ]
[ SOURCE: HollywoodLife ]
But later in 2016, all those pictures were deleted and the couple was separated as Efron claim his busy schedule and distance to be the reason for their separation. His true fans have speculated that Miro has cheated Efron instead of him being the reason for their separation.
Zac Efron Current Relationship
Hold on to your hats, single ladies. The handsome actor, Zac Efron may be looking down to settle down as he recently told Cosmopolitan that as he gets older, he's considering to give up the bachelor life.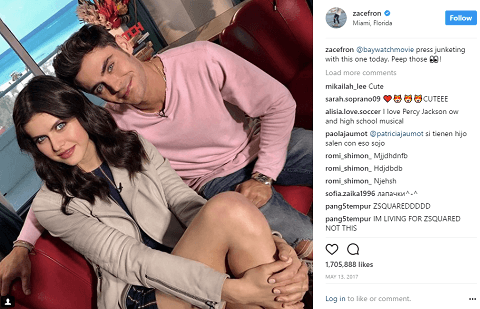 [ CAPTION: Zac Efron and Alexander ]
[ SOURCE: Instagram ]
Recently in 2017, he is rumored to be dating Alexandra Daddario his co-star from Baywatch. Their flirty nature in an interview and their pictures together at social sites further sparked rumors that the duo was dating. In an MTV Movie Awards, Daddario confirmed that both of them have a great chemistry but are just good friends nothing beyond that.
Also See: Hot Alexandra Daddario ends her relationship with Logan Lerman. Is she married?
We will let you know if more information regarding Zac Efron's personal details is revealed.