Claudia Maria Schiffer is a famous German model and former actress. She's not just any model; she's a supermodel, which means she's famous for her modeling. She's done so well in her career that she's now worth a whopping $70 million!
Besides modeling, Schiffer has also been in some movies like "Zoolander" and "Love Actually," showing that she's talented in more than one way. Plus, she's got a loving husband, Matthew Vaughn, who supports her in her career and life. Her journey from a small town in Germany to being a supermodel and actress is truly inspiring.
Married To Matthew Vaughn
Claudia Schiffer and director, Matthew Vaughn are a happily married couple. They tied the knot on May 25, 2002, in a charming village called Shimpling, England. Their wedding took place at Shimpling's St. George's Church, surrounded by 300 of their closest family members and friends.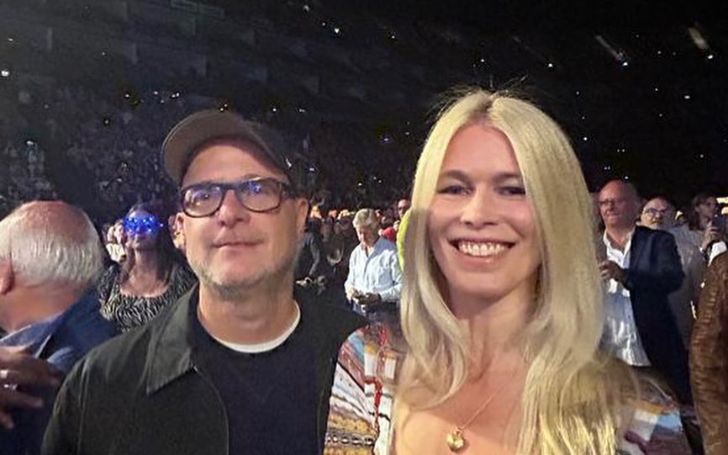 Claudia Schiffer with her husband, Matthew Vaughn SOURCE: Claudia Schiffer Instagram @claudiaschiffer
Schiffer and Vaughn's wedding was quite the star-studded event! They had some famous friends in attendance, like the well-known filmmaker Guy Ritchie and the tennis star Boris Becker. To share the joy with even more people, the supermodel decided to invite Hello! magazine exclusively to cover their wedding.
The day after Schiffer and Vaughn's wedding was just as exciting as the wedding itself! They organized a friendly football match, and since her husband is English, he led the England team. On the other side, the tennis star Becker took charge of the German team. England managed to defeat Germany with a score of 6-2.
How Did The Supermodel Meet Her Husband?
Schiffer's love story with her husband, Vaughn, started at a dinner party in Los Angeles. Interestingly, at that time, she was engaged to the famous magician David Copperfield. But when she met him, something special happened. She often says it was like love at first sight, a feeling she had never experienced before.
Vaughn, when he first met Schiffer, felt like she was way out of his league. Sometimes, when you meet someone famous and successful, it can be intimidating. It's heartwarming to know that despite his initial reservations, Matthew and Claudia found something special between them.
How Was Schiffer Proposed By Her Husband?
Vaughn's proposal to Claudia Schiffer was truly unique and romantic. He didn't just get down on one knee; he did something very creative. He gave Claudia a painting that simply said, "Marry Me." It was a touching and artistic way to ask for her hand in marriage.
Luckily for Matthew, Schiffer was equally creative in her response. She didn't say "yes" in words; instead, she painted her answer on a canvas, responding with a heartfelt "Yes." The fact that the painting was made by the famous artist Ed Ruscha, as mentioned in Mirror's article adds even more charm to this beautiful moment.
Claudia Schiffer and Matthew Vaughn at Eddie the Eagle Premiere SOURCE: ZT Images YouTube Channel
At first, Vaughn had a different plan for the painting he made for Schiffer. He thought about casually hanging it on the wall and asking her opinion, like, "Hey, check out this painting I got. What do you think?" But looking back, he realized that might not have been the best idea.
Vaughn felt Schiffer could have just said something like, "Oh, it's lovely," and that would have been it. The magic of the moment might have been lost. Thankfully, he went with the more direct approach by writing "Marry Me" on the painting, which led to the beautiful and memorable "Yes" in response.
First Impression Of Vaughn
When Schiffer first met her future husband, Vaughn, she had a powerful first impression. She had always believed that finding a perfect man was an impossible task and thought, "Oh, there's no perfect man out there." But then, she met him, and everything changed. He embodied everything she had ever wanted in a man.
Schiffer and Vaughn had more in common than just their deep love for each other. They both shared a few other interesting similarities too. For instance, they were both not really into the party scene; they preferred quieter and more intimate settings.
Another adorable commonality Schiffer and Vaughn had was their love for their dogs. Even though they were both famous and accomplished in their own right, they didn't hesitate to admit that they could get a little embarrassed by how much they adored their furry, four-legged companions.
Some Information On Schiffer's Husband, Matthew Vaughn
Matthew Vaughn is a well-known English filmmaker who has made a significant impact in the world of cinema. He's not only known for his production work on movies like "Lock, Stock and Two Smoking Barrels" and "Snatch" but also for his directing talents.
Vaughn directed various successful films, including the crime thriller "Layer Cake", the enchanting fantasy "Stardust", the unique superhero comedy "Kick-Ass", and the superhero blockbuster "X-Men: First Class". His diverse range of films showcases his versatility as a filmmaker and his ability to excel in different genres.
Matthew Vaughn in an Interview SOURCE: Hey U Guys YouTube Channel
Vaughn is known not only for the movies he's directed but also for some notable projects he decided not to pursue. He was initially set to direct "Casino Royale," a famous James Bond film, but eventually dropped out of that project. He was also lined up to direct "Thor," a Marvel superhero movie, but decided to step away from that opportunity as well.
Additionally, Vaughn was slated to direct "X-Men: The Last Stand," but family conflicts led to his departure from the project. While these decisions may have disappointed some fans, it's essential to respect an artist's choices, and Schiffer's husband has continued to make his mark in the world of filmmaking with his own unique projects and creative endeavors.
Shares Three Kids With The Director
Claudia Schiffer and Matthew Vaughn have a beautiful family together, consisting of three wonderful children, as mentioned in an article from Closer Weekly. They are proud parents to a son named Caspar Matthew De Vere Drummond and two daughters named Clementine Poppy De Vere Drummond and Cosima Violet Vaughn Drummond.
Schiffer's children have been quite private figures in the public eye. Caspar, the eldest, was born on January 30, 2003, followed by Clementine, born on November 11, 2004, and Cosima, the youngest, born on May 14, 2010. She and her husband, Vaughn, have chosen to keep their children away from the spotlight.
Used To Be Engaged To David Copperfield
Before Schiffer found love with Vaughn, she had a significant relationship with the famous magician David Copperfield. They were together from 1994 to 1999 and even got engaged in January 1994. Their love story began in a truly magical way when he picked her "at random" from the audience during a Berlin Celebrity Gala in 1993, the year Leanza Cornett won the Miss America title.
In 1997, Schiffer and Copperfield announced that they were parting ways, with incompatible work schedules being the reason behind their decision. Interestingly, during their time together, some rumors were circulating that their romance might not have been entirely genuine and that it was more of a business relationship. They have also been accused of faking an engagement.
Other Engagement And Relationships
Claudia Schiffer has had her fair share of relationships over the years. After her engagement to David Copperfield ended, she was engaged to Tim Jefferies for about 10 months, starting in 2000, but unfortunately, they later decided to part ways. The engagement happened at St. Barts in the Caribbean.
Before that, Schiffer had been in relationships with various notable figures, including Bruce Hoeksemar in 1999, Peter Gabriel in 1993, and Prince Albert of Monaco from 1992 to 1993. There were also rumors of a possible connection with Richie Sambora. The supermodel's romantic history shows that she has had her experiences with love and relationships in the world of entertainment and beyond, adding to the tapestry of her life.
Check Out Hitberry for more