Who is Shauna Evans? Is she still Single or Married? Know her Affairs and Relationship
Who is Shauna Evans? Is she still Single or Married? Know her Affairs and Relationship
Shauna Evans is married and a happy mother of four. If you are wondering who is Shauna Evans, she is a brilliant author born in Northern Utah beneath the Wasatch Mountains.
The author of award-winning cookbooks and a mom has sold over thousands of books. Let's take a peek into her personal life and how is she balancing between her married and professional life.
Shauna Evans Married BYU quarterback
Previously a student of science, Shauna graduated from Brigham Young Universtiy with a nursing degree in 1994. Two years before her graduation, she tied the knot with BYU quarterback, Joe Evans in 1992.
It appears like she did not have any other boyfriend except her husband, Joe. She might be one of those one-man girls because the couple has survived twenty-five years into their marriage and the couple now shares five children.
[ CAPTION: Shauna Evans ]
[ SOURCE: A Groovy Mom ]
Despite her busy schedule occupied packing lunch and helping children with their homework, Shauna still has made time for her nursing education. Her studies focus on nutrition, diet, and exercise.
Apart from being an author, Evans is also a certified personal trainer. Yes, that's probably where she gets ideas for writing her books. In fact, the beautiful mom is a winner of 10 recipe contests that include two national awards.
Not only that, she boasts four books: 'What Goes With What-Baby Rooms Made Easy,' 'Sweet and Savory: Award Winning Recipes Made Easy,' 'Skinny-licious: Scrumptious and Lite Recipes for a Slimmer You,' and '30-Minute Meals for Families', the last one being published on June 2014.
[ CAPTION: 30 Minutes Meals for Families by Shauna Evans ]
[ SOURCE: Sweet and savory seven ]
You can buy her books via Amazon too.
Shauna Evans Runs Sweet and Savory Seven
Shauna Evans also runs a blog: sweetandsavoryseven in which she writes tips relating to the skin like how to get a beautiful skin. Yes because she has almost a perfect skin even she is 40 plus years old and everyone requested including the host of Good Things Utah.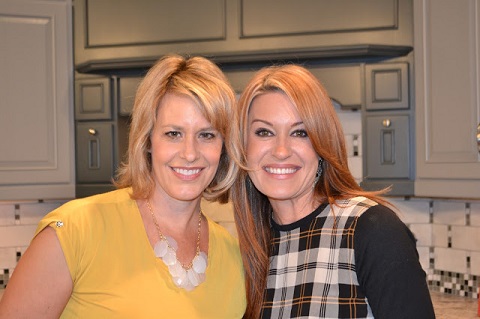 [ CAPTION: Shauna Evans with Reagan on the show, GTU ]
[ SOURCE: Sweet and Savory seven ]
On August 13, 2014, Evans appeared on Good Things Utah along with the show host Reagan. As a matter of fact, the secret was actually passed from her mother who is also a registered nurse and despite being 69 has a less wrinkle compared to many 30-year-old women.
[ CAPTION: Shauna Evans with her mother and friends ]
[ SOURCE: Sweet and Savory Seven ]
Also, she also shares creative family ideas, but it is mostly her delicious and mouth-watering recipes in her blog. You should really try her Coconut Seared Bananas. It's crazy delicious and quite a unique recipe too.
[ CAPTION: Coconut Seared Bananas ]
[ SOURCE: Sweet and Savory Seven ]
Other than that she is married and her husband used to be a BYU quarterback, nothing else is known. Neither any information about her children is also revealed. That suggests that she tries to keep her family apart from the limelight of media.
So except for the information that she is happily married, a mother of five and a big Today Show fan, rest information about her family is discreet. But Evans loves spending time with her family, that is for sure.