The one who gets a link to the president of United States Donald Trump automatically comes in the headline, whoever he or she is. Since the day, Donald Trump has started his office, everyone associated with him are talked about.
People now generally check out the personal information of Donald Trump's candidates. In the same way, now Kellyanne Conway has also been the most searched topic on the internet. Everyone is just so keen to know about her personal life. Check it out…
Who is Kellyanne Conway?
Kellyanne Elizabeth Conway is an American political activist. She is now known as Counselor to the President for Donald Trump. You also might see her as Republican Party campaign manager, pollster, and strategist. Also, she was CEO of The Polling Company Inc. /Woman Trend and formerly president. Donald Trump announced that Kellyanne will be joining his administration as Counselor to the President in December 2016.
Kellyanne Conway Source: cnbc
Kellyanne Conway's Husband George T. Conway III
After Kellyanne got selected as Counselor to the President, everyone now has started to keep interest on her. Her professional life information is available everywhere. But her personal life is less talked. Today, here we will be discussing her personal life.
The name of Kellyanne Conway's husband is George T. Conway III who is a New York-based lawyer by profession. In 1984, George got graduated from the Harvard College with the degree in Biochemical Sciences. Later, he studied law at Yale Law School. He is also the undergraduate at Trinity College located in Washington D. C. George was the president of the Yale Law School Federalist Society Chapter.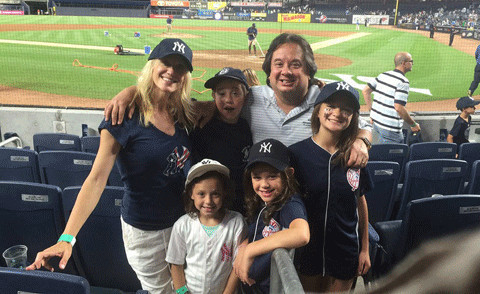 Kellyanne Conway and her husband George T. Conway with their four children Source: donaldtrumpbuzz
As per some of his biographies, George is also the partner in the Litigation Department of the New York firm Wachtell, Lipton, Rosen, and Katz since 1994.Another secret about George is that he is also said to be the political donor and has lent money to various candidates like George Bush, John McCain, Carly Fiorina and more.
Kellyanne Conway and George T. Conway III Marital Life and Children
Kellyanne and George met at Yale Law School. The couple has never ever spoken a single word regarding marital life and their personal life. There is no doubt the couple dated for few years before their marriage. Kellyanne tied the knot with George T. Conway III on April 28, 2001.
The couple is blessed with four children in total. She is the mother of four children all under 12 years old. Kellyanne is blessed with a set of twins and two other two more children. The name of her twins is George Conway and Claudia Conway. Going through her twitter account, she has posted numerous pictures of her complete family.
#openingday fun. #Yankees fans in #Phillies camouflage 2 root against #redsox. saw 1st grand slam of season! #mlb pic.twitter.com/Jsfh0I7efW

— Kellyanne Conway (@KellyannePolls) April 6, 2015
Happy 10th #Birthday, George and Claudia! #Eagles pic.twitter.com/rFF26KdEMk

— Kellyanne Conway (@KellyannePolls) October 17, 2014