Who is Kate Beckinsale Currently Dating? Find out About her Past Affairs and Relationship
Who is Kate Beckinsale Currently Dating? Find out About her Past Affairs and Relationship
An English actress, Kate Beckinsale has successfully established herself as the most renowned actress of all the time with her gorgeous beauty. With her glamorous looks and stunning beauty, the actress has made her film debut in Much Ado About Nothing.
After Kate's divorce with her husband, Len Wiseman, she has is in the limelight for being in a relationship with the 21-year-old Matt Rife. So, is the 42-year-old actress, Kate Beckinsale is really in a relationship with Matt? Wanna know? Here's detail information about the actress dating status including her past affair and relationship. Just stick with us.
Is Kate Beckinsale Currently Dating Matt Rife?
Age is just a number and it's true that Kate is in a romantic relationship with Matt Rifer, youngest person ever featured on the BET series ComicView. It's a good news that she isn't alone anymore, she has found her soul mate.
However, the romance between Kate and Matt has "Fizzled Out" and now the couple has come to an abrupt end.
[ CAPTION: Kate Beckinsale in a relationship with Matt Rife ]
[ SOURCE: JustJared ]
Although Matt is a lot younger than Kate, both of them aren't shy about their relationship. And recently Kate and Matt were spotted kissing for the first time in the early hours after officially outing that they are boyfriend and girlfriend. Moreover, their parents also have supported their relationship.
Also read: Know In Details About Kate Beckinsale's Net Worth Income Source And Achievements

[ CAPTION: Kate Beckinsale hugging her boyfriend Matt Rife ]
[ SOURCE: JustJared ]
Well talking about how the couple first met, they met each other through a mutual friend and quickly started flirting. They went on their first date and since then they continued dating each other.
Kate Beckinsale was previously married to Len Wiseman in 2004 but unfortunately, the couple got divorced. Let's know in detail.
Kate Beckinsale divorce with Len Wiseman
It was Len Wiseman who file a divorce from Kate Beckinsale. As per the sources, both had very complicated schedules was the reason for their separation. Although the Kate and Len were together for more than a decades, unfortunately, the couple separated back in 2015.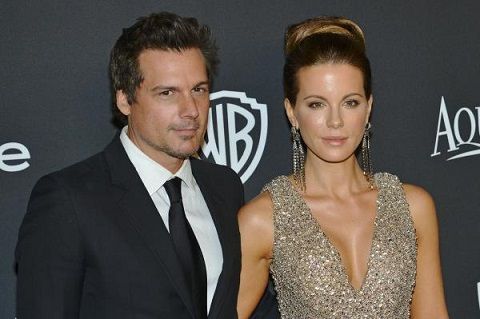 [ CAPTION: Kate Beckinsale with her ex-husband Len Wiseman ]
[ SOURCE: UPI.com ]
The two met each other on the set of the movie, Underworld in the year 2003 and fell in love with each other but at that time Kate had been in a long-term relationship with Michael Sheen while Len was married. Both Kate and Len decided to separate from their respective partners and they got married in 2004 and due to the complicated schedule, they are now separated.
Kate Beckinsale's past relationship
Before being in a marriage relationship with Len, she has been in a relationship with Michael Sheen in the year 1995. They even have a daughter- Lily Mo Sheen but the couple separated in 2003.
[ CAPTION:Kate Beckinsale with Michael Sheen and daughter Lilty Sheen ]
[ SOURCE: Daily Mail ]
Kate has had an affair with Edmund Moriarty. After dating each other for one year they were separated. However, after three breakups, it looks as if Kate had finally found someone special in her life. So we hope that their relationship will continue building love until the end.