If you are a regular follower of NBA then you must be familiar with the name John Wall.  He is an American professional basketball player who plays for the Washington Wizards of the National Basketball Association (NBA).
There are different types of people some make excuses and some wait for the good result. John Wall is among them who waited for the good result by learning, studying, sacrificing and mostly loving his career. Besides John career, his fans are eager to know about his relationship. Is John Wall married/dating someone? To know about this facts stay with us.
John Wall's current relationship
John Wall has been linked with different celebs. In recent days John was not spotted with anyone neither any news and rumors regarding his personal life is revealed. He is spending his life being single since late 2015 but he surely won't be single for a long time.
John Wall source: wikimedia
As he has no any off season, We can assume that Being focused on his career and he is not able to give time for his love life. Recently 1 DAY AGO he was spotted enjoying his days and John has also posted a photo on his Instagram account writing a caption:
Been feelin like Ric Flair lately "woooo" lol !! #WallWay#5Deep#BYB
Despite being a ladies man the famous NBA player John, recently is leading a single life. Hard to believe ain't it? But ladies if you dream about this basketballer better go grab a ticket in the front row. Who knows what future may hold for you as well?
John Wall's past affairs:
John has been in a different relationship with many celebs. Firstly John has been in a relationship with Danielle.  similarly, After Danielle, his dating rumor was with Kash Barb and Hazel Renee.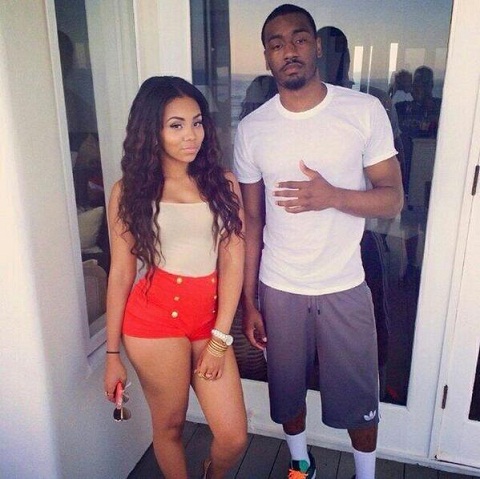 Hazel Renee (girlfriend of John Wall)
source: lockerdomecdn
In February 2011 John was linked with Keyshia Dior but during his relationship, he was also found dating Karrueche Tran an American Model in between 2012 - 2013. Later on, he parted with  Keyshia Dior in 2015.
Karrueche Tran source: media
In 2014 John had an encounter with Karlie Redd a Trinidadian of Tobagonian Reality TV. The couple seems emotionally linked with each other but due to some misunderstanding, they parted. After separation with Karlie Redd, Renee Quarles an American Model and John Wall (basketball) had an encounter in Jun 2015.
Renee Quarles source: whodateswho.com