Have you ever watched The CW's teen drama series "Gossip Girl"? If so then you might be common with Jessica Karen Szohr (professional known as Jessica Szohr). She came into the fame after appearing in the role as Vanessa Abrams on "Gossip Girl."
Szohr was included in "100 Most Beautiful People in the World" list in People's Magazine. It made her stay in the timeline, and now people are keen to know about her dating life. Check out her boyfriend right below…
Who is Jessica Szohr dating?
After Jessica Szohr's break up with her longtime boyfriend Ed Westwick, people grew their interest to know about her future relationship. Her fans constantly follow and try to update themselves about her present affairs.
Even though Szohr has never made any headlines about her relationship, she openly shared numerous photos on her Instagram. She looks like happily enjoying her dating life with American Football Player Scotty McKnight.
Jessica Szohr and Scotty McKnight Source: instagram
According to Who's Dated Who, Szohr and McKnight started dating since Dec 2014. At the moment, the couple shares around two years of relationship. She often shares numerous pictures with McKnight. These photos reflect their happy relationship.
Also Read: Actress Jessica Szohr is dating her boyfriend Scotty McKnight. Will they marry anytime soon?
https://www.instagram.com/p/BMHTHKCDlpK/
Jessica Szohr's Past Affairs
Gossip Girl's star Jessica Szohr went through numerous ups and downs while talking about her relationship and past affairs. She dated English actor Rafi Gavron back in December 2007 followed by Jason Lewis in November 2008.
After her breakup with Lewis, she started dating English actor Ed Westwick in December 2008. They worked together on Gossip Girl in 2007. Their relationship ended abruptly after she got dumped by Westwick on May 2010. After Westwick had learned about flirting with his friend Marco Minuto, he decided to end their relationship. One of the close sources of Ed Westwick explained:
"Jessica recently celebrated her birthday in LA and was being openly affectionate and flirty with Marco. They ended up back at the same hotel, but nobody knows what happened behind closed doors. Her flirty behavior shocked a lot of their friends, so word quickly got back to Ed, who has been filming in Europe."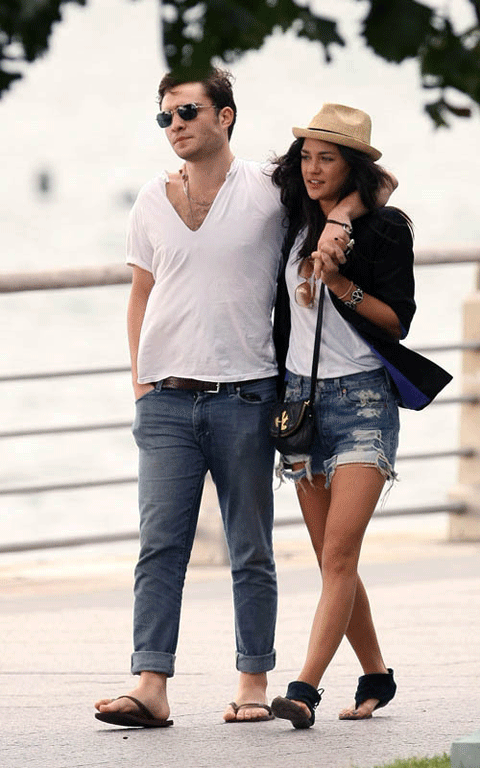 Jessica Szohr and Ed Westwick Source: fashionnstyle
Within less than a year of her breakup with Westwick, she dated American Football Player Aaron Rodger. The couple started dating since 2011 and dated for around three years. Their relationship did not work out. Thus, the couple decided to get apart in 2014.
After several relationship failures, now, Jessica Szohr is happily dating Scotty McKnight. The couple has not gone through any of the separation news.