Who is Jared Fogle? Is he still Single After Several Unsuccessful Married Life?Know his Affairs
Who is Jared Fogle? Is he still Single After Several Unsuccessful Married Life?Know his Affairs
Choose your spouse carefully because being single and feeling lonely is better than being married and feeling lonely.
Jared Fogle aka the Subway Guy who is known for being a spokesperson for Subway Sandwiches' advertising campaigns got divorced with his second wife, Katie McLaughlin. The reason behind their separation is extremely horrible. Today we will talk about his married life and divorce. Stay with us to know more
Know about the Jared Fogle Married Life
Jared Fogel who rose to prominence after losing a weight by way of his Subway weight loss program first married to Elizabeth Christie, a pediatric nurse back in 2001. The couple remained together for almost six years and got divorced. Sometimes people go off the limit to show how humorous they are and Fogle is an example of it! Here is a post from #Jared Fogle where he takes a shot at his failed marriage and makes us laugh at his tragedy, take a look:
After two years of his divorced in 2009, Jared Fogle got second married to Katie McLaughlin a teacher.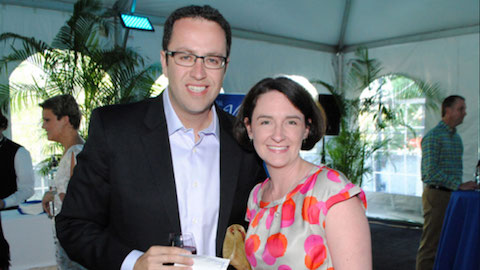 [ CAPTION: Former husband and wife, Jared Fogle and Katie McLaughlin ]
[ SOURCE: etonline ]
However, his wife filed divorced after he was sentenced to over 15 years in prison. Jared was pleaded guilty of getting involved in child pornography and sex with minors. Who might not get divorced after someone's husband is found guilty of such things? Kate whole world must have crashed when she heard that news.
Know about Jared's divorce cause
Kate finalized their divorce on November 16, 2015. It is not clear whatever it means to his son, Brady, and Quinn but he still has contact with them. Reportedly, Katie received $7million from the disgraced pedophile and agreed to the terms after Jared dropped a petition to be able to see their children.
Inside Edition also stated that Katie Fogle wasted no time announcing that she is separating from the father of her two children.
"I am extremely shocked and disappointed," Kate said. Furthermore, she also added I am in the process of seeking a dissolution of the marriage." Similarly, she also said that Jared was never much of a father. He was often away on business in his job for Subway.
Here is the audio tape revealed by Jared Fogle's ideas to target kids.
According to Katie's Lawyer, Jared did not play much of a role in his daily life of the children due to his significant travel. He was more attracted to the crime than his family.
Katie learned about her husband's double life after her home was raided by FBI agents. She immediately flew to Indiana with her children.
Right after that incident, Katie filed a divorce with him, the same day he confessed about his trading child pornography and having sex with minors. Judge Tanya Walton Pratt sentenced Jared in Federal prison for 188 months.
Currently, Jared is battling to come out from prison but there is nothing to do besides regretting.