The full name of Gregg Sulkin is Greggory Edward Sulkin. He is an English actor and made his movie debut in the year 2002. He has appeared in different movies like Sixty Six, White Frog, Don't Hang Up, A Mouse Tale and television series like Doctor Zhivago, Melissa & Joey, Pretty Little Liars and more. On board, make sure if Gregg Sulkin's girlfriend broke up with him.
With handsome looks and perfect figure, Sulkin has already attracted numerous fans towards him. Every girl from all around the world is now interested to know about his dating life. Check his dating life and past affairs right below…
Who is Gregg Sulkin's girlfriend?
The handsome Gregg Sulkin is always in the highlight for his relationships news. He is often linked up with numerous celebrities. As he is handsome and has a great figure, he is followed by millions of fans. You know, people have grown their interest to know about his dating life.
You might be clear about Sulkin's breakup with American actress Bella Thorne. They also got engaged on 13th April 2016. Just after three months and twenty days, the couple broke up. In the another side, you might be clear about One Direction's Louis Tomlinson and American actress Danielle Campbell is no longer dating.
How would you feel when someone says that the two broken hearts are now seeing each other? As per Teen Vogue, Sulkin and Campbell were spotted holding hands. As per sources, they also were spotted ringing in2017 together.
Source: twitter
Since Sulkin and Campbell have not spoken a word on this current topic, so it won't be fair to claim that they are dating. Also, when you check out the post, the boy has turned around so it is still not clear if it's Sulkin or someone else. In a next way, holding hands at the New Year's Eve party does not mean they are dating.
Remember the time when Danielle was slammed for taking a photo with another guy. Later, that guy turned out to be her brother. So, until Danielle and Sulkin reveal anything, it's inappropriate to claim that they are dating.
Source: instagram
Gregg Sulkin's Past Affairs
People actually know Sulkin for his numerous relationships. Turning the pages of his past affairs, he once dated American actress Samantha Boscarino. The couple started dating since 5th Feb 2008. They also worked as the on-screen couple in Wizards of Waverly Place in 2007. Later after dating for one and a half year, the couple broke up in September 2009.
He also once dated American actress American actress Debby Ryan for 11 months after getting together in 22nd February 2009. In the same year, he dated American actress Britt Robertson. They worked in Avalon High in 2010.
Debby Ryan and Gregg Sulkin Source: teen
Sulkin was also spotted dating English singer Pixie Lott for around seven months after dating since January 2010. There were rumors of Sulkin relationship rumors with American actress Yvette Monreal in Feb 2015.
Sulkin and Bella Thorne started dating since 11th July 2015. The couple dated for nine months and exchanged rings on 13th April 2016. Sadly, just after three months of engagement, the couple broke up and ended their almost one-year relationship.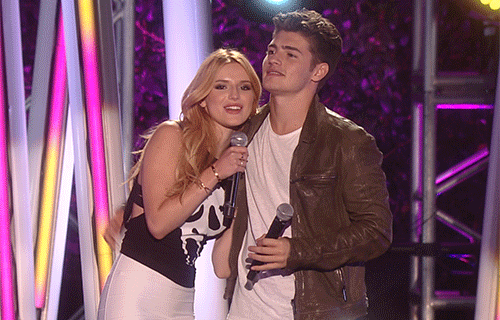 Now, there are rumors of Sulkin dating Louis Tomlinson. We will let you know about their relationship once they reveal anything about it. Stay connected!