We obviously have heard about Kristen Stewart being unfaithful to Robert Pattinson, Twilight's favorite vampire but have you ever wondered why? Not because she was in love with the director, Rupert Sanders. The on-screen couple seemed like "the Perfect Couple" but let's not judge her without knowing her side of the story. In an interview with the Guardian in March 2017, she confessed that she dated Pattinson because she was afraid, confused and insecure.
So, she felt it was the only right thing to do at the time. Convincing enough, Kristen was then a high school student and it must have been terrifying with all the attention she was receiving. But now she's become fearless and is no more confused. Is she now? Stick with Hitberry to find out more.
Is Kristen Stewart dating women?
After years of rumors of Stewart being gay, she finally pulled down the curtain on August 2015 during an interview with Nylon. "Google me, I'm not hiding," she told the magazine. This news shattered a lot of male fan's heart but on the contrary, it's good news for other people, you know who you are guys?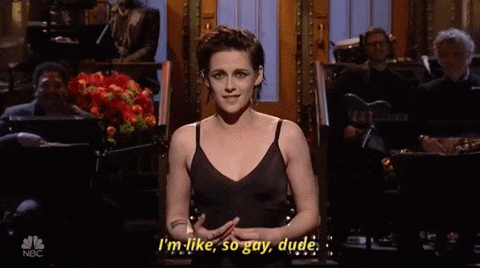 Kristen Stewart tells she is gay during the Saturday Night Live Source: vanityfair.com
Next time, while Stewart was on the comedy show called Saturday Night Live in 2017. "I'm, like, so gay", Stewart told in a monologue. Honestly, we were not so surprised with the announcement because she had hinted about her sexuality earlier many times.
Stewart's String of Lovers
The Runaways actress was first suspected to date Alicia Cargile, visual effects producer in 2016, according to Elle UK. They were suspected to be in a relationship but it was never proved until this. Stewart was also one of the highest paid actresses in the year 2013. Although they broke up and patched up several times during their relationship, their break up was never confirmed.
Stewart with Alicia Cargile Source: eonline.com
Later in the same year, Stéphanie "Soko" Sokolinski, a French singer-songwriter told W magazine told that she and Kristen were very happy being in a relationship. However, Stewart never mentioned Soko probably because she probably did not share the mutual feeling with Soko. Or there was another reason?
The Snow White actress was at the time seen with Stella Maxwell, Miley's ex but a source dismissed the rumor saying they were just friends. So why did she break up with Soko only after 2 months? Sources reported that Steward got back together with Cargile again. Cargile apparently seems like the backup option for Kristen.
Kristen Stewart and St Vincent out in public Source: hollywoodtake.com
Even before rumors about Stella, Kristen was in a relationship with the 34-year-old singer, St Vincent. Vincent was previously in love with Cara Delevingne. After being in a relationship with her for a few months, Kristen broke up with her too. All her relationships surprisingly do not seem to last more than a few months.
Stewart was once again seen with British-New Zealand model, Stella while she was filming in Savannah. Later in January too, Maxwell, was spotted with Kristen in Buena Park, California.
Kristen Stewart wears a Make my day T-shirt while going out with her girlfriend Max Stella in New Orleans Source: youtube.com
However, secrets do not remain hidden forever. It was confirmed that they were in a relationship by US Weekly. The duo was also spotted kissing outside a bar after an event. The couple has taken one step further by moving in together, after being together for five months. We really hope this time Kristen has indeed found her better half.
Know if Kristen Stewart is Gay or Bisexual or Straight?
Now the big question? Is she really gay? Kristen says she is but considering all the sample pictures on the internet and the short term relationships, she might not be. She might be bisexual. It's just a theory but there are enough shreds of evidence supporting this theory, not literally though. Let's look at those 'internet' evidence, shall we?
KRISTEN STEWART changes her look Sources: huffingtonpost.co.uk
First thing, she is found telling herself gay on several occasions, but have you considered this? Hinting that she is gay time and again could only mean that she wants people to believe that she is gay but why would she want that? So, she might be gay after all.
But again, if she says who she is, why did her relationship last longest with Robert Pattinson, 4 years whereas her relationships with her girlfriends did not even last a year. She might be straight.
Kristen and Robert back in 2011 and with her current girlfriend Stella Source: harpersbazaar.co.uk
Previously she told that she was not afraid anymore and now she says wants to try new things, according to an interview given by Kristen to the Harper's Bazaar UK. She has dated both men and women. So what does she mean by that? Kristen further puzzles our mind telling that unlike others, she would not continue eating grilled cheese just because it felt good, using grilled cheese as a metaphor, hinting that she wants to date men again. So she might be bisexual?
But remember guys, earlier in March 2017, she believed that she is not bisexual. Common Stewart, Seriously? To quote her words exactly. She said,
You're not confused if you're bisexual. It's not confusing at all. For me, it's quite the opposite.
A perfect example is Lindsay Lohan, an American actress, and singer who first denied being lesbian. Later she announced that she was bisexual in an interview with the Harper's Bazar before finally realizing that she is straight from her experience dating both men and women.
LONDON, ENGLAND - SEPTEMBER 30: Lindsay Lohan performs during a photocall for "Speed The Plow" at Playhouse Theatre on September 30, 2014, in London, England. Source: dailymail.co.uk
Do you notice the similarity between Kristen and Lohan? The Personal Shopper actress also seems confusing as hell. No wonder her relationships are also random. Her steps also follow a similar pattern. We still cannot be sure if she is gay. She might realize someday that she is not actually gay. Who knows, it's Kristen Stewart. She might want the grilled cheese back. Only time will tell.
Source: bustle.com
Don't know if we should respect her decision, coming out of the closet because she might be experimenting, as the Guardian mentioned, it's difficult to predict when the person ends and the performer begins.