Wentworth Miller, Prison Break's Scofield Unknown Facts
Wentworth Miller, Prison Break's Scofield Unknown Facts
Wentworth Miller, better known as Michael Scofield to Prison Break's fan, has many hidden secrets. Some of which will amuse you while some will shock you.
So if you are a fan, get ready to get on a rollercoaster ride full of mixed emotions. If you don't know who Wentworth Miller is, you too should read this because you will find him awesome or weird. Stay with Hitberry.
Wentworth is Full Of Surprises
Let's get started with his family. Michael Scofield comes from a mixed line of generations. So if you were wondering how someone could become this handsome with amazing blue eyes, here's your answer.
Miller as onscreen Scofield in the Drama Series, Prison Break
Source: hollywoodreporter.com
While his father comes from Jamaican, African-American, Jewish, German, Cherokee and English ancestry, his mom is of Russian, French, Dutch, Syrian, and Lebanese descent. Wow! that's quite a handful of different ancestors.
Wentworth Miller with his dad on the right Source: lipstickalley.com
In addition, the 45-year-old actor is also a double citizen. Wentworth Earl Miller III was born in England to an American couple. Wow! a British. But if you have watched his movies, he does not have a British accent at all.
The Prison Break Star with his family members
Source: skynet.com
Miller or say Michael Scofield strikes as this infamous genius if you watch the drama, Prison Break. Scofield is able to break his brother out of any impossible prison with his out of the box techniques.
So are you wondering if he is that of a brainy in real as well? If you are then, yes he is.
Young Wentworth Miller Source: pinterest
As a matter of fact, he is a Princeton Graduate majoring in English and everybody called him Stinky. Can you believe that? Not because he was a nerd, because of his sarcasm attitude. LOL.
But there was something always troubling him, since his childhood. Depression. The Prison Break actor although became successful hit rock bottom after completion of the fourth season of Prison Break in 2010.
Facebook post teasing Wentworth Miller Source: mtv.com
In a Facebook post, the troubled actor revealed that because of depression he had suicidal thoughts. To cope with that he took to foods. As a result, he gained weight and people made fun of him. His words exactly,
It's a battle that's cost me time, opportunities, relationships, and a thousand sleepless nights. And I put on weight. Big f--king deal.Long story short, I survived. So do those pictures. I'm glad.
He is a fighter and of course a gentleman (He was thoughtful of words!). He is an English, dude!
Miller Worked Hard after he gained weight and Clearly the Change was Visible Source: moviepilot.com
Now here's something strange. People are allergic to animals. That's normal but Wentworth Miller is allergic to people. That's odd, right? You think he made this up.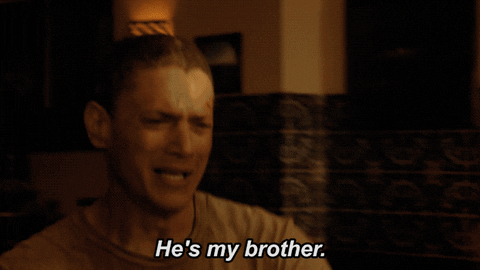 Probably but according to sources, he got rashes after he had to hug Dominic in a scene during a shooting for Prison Break.
Additionally, the ridiculously handsome actor is also a writer. There's no denying that he is quite successful but there's no without a few blocks on the road.
Wentworth Miller Comes as Gay
As they say, save the best for the last. But the biggest shock probably is the Prison Break star coming out of the closet. Even though the sex symbol previously denied the gay rumors but it was for the sake of the show.
Miller also perceived as a sex symbol Source: movies.stackexchange.com
Obviously, the Flash actor could not put his career at risk. But he gained confidence after Prison Break, he admitted in an interview.
After Prison Break, I came to grips with the fact that my public persona was in misalignment with how I actually felt. But professionally, I was feeding a fantasy. I created this air of 'We don't address that thing'.
The British-American actor was also nominated for the Best Actor in a Dramatic Series. He was invited by St. Petersburg Film Festival in 2013 but he declined without any hesitation. The reason was simple; he was gay and Russia was anti-LGBT.
Wentworth Miller as Captain Cold in Legend of Tomorrow Source: inverse.com
The internationally acclaimed star further made sure everyone not to be confused about his sexual orientation. He wrote a letter which read.
As someone who has enjoyed visiting Russia and can also claim a degree of Russian ancestry, it would make me happy to say yes. However, as a gay man, I must decline. I am deeply troubled by the current attitude toward and treatment of gay men and women by the Russian government.
Wentworth Miller and his rumored partner Luke MacFarlane
Source: pinterest.com
Despite opening up about his sexual orientation, he has still not shared details about his partner. So we do not who exactly he is dating now but rumors suggest it's Luke MacFarlane, a Canadian actor.
But that's all for now. For more updates, keep visiting Hitberry.