Jesse L. Martin is one of the most active actors in TV industry in recent days. The actor currently famous among The Flash fans as detective Joe West has captivated the world with his innocent smile lovely, gentlemanly aura and good physique.
So today, we are here to show the social life of this famous series actor and show you his lifestyle. He often portrays serious characters in all his roles he takes. But he is a lot goofier than what we see on-screen. The former Law and Order actor on the set of The flash can be termed as the youngest of all cast members including Grant Gustin, Candice Patton, Danielle Panabaker, Allen Carlos Valdes.
Jesse L. Martin's Social Media Activities
Here is some twitter fun that Jesse has posted on her Twitter. To begin with, let's take a look at Martin's huge smile
Jesse L. Martin and the cast of #TheFlash at TV Guide's #SDCC portrait session (2014). http://t.co/F3QwEHrLqC

— Jesse L. Martin (@JesseL_Martin) May 2, 2015
Well, if you scroll down his twitter you will find numerous fun candid pictures that the actor has uploaded, here's another one where detectiveJoe and Sisco are seen taking photographs together.
Boys will be pic.twitter.com/5kOkYrHFA2

— Candice Patton (@candicekp) July 17, 2015
The Flash is possibly turning to its final season and the fans are already waiting for the series to start, but today we are not to give you any details on the story lineup but we are here to show you how active Jesse L. Martin is in his social media.

CAPTION: Another Candid picture Jesse L. Martin
SOURCE: Instagram
Here are another Flash friends captured in the picture, let's have a look:
Off camera on camera. #theFlash#jesseLmartin pic.twitter.com/88xvtgvmUi

— Tom Cavanagh (@CavanaghTom) May 18, 2015
Another one with the gang, let's take a look at it:
Nice bunch to go to work with @CW_network @MzKatieCassidy @Willaaaah @amellywood @grantgus… http://t.co/xYHWZwlPAP pic.twitter.com/W3DhhmulmI

— Paul Blackthorne (@PaulBlackthorne) May 14, 2015
Jesse L. Martin's Net Worth
Jesse Martin earns his salary from numerous films and television series. The actors Jesse L. Martin reportedly holds a total net worth of $10 million. Other than being a successful singer Jesse also earns good amount of money from his singing career as a Jazz singer.
Take a look at a video from Flashpoint where Officer Joe played by Martin shows his singing abilities:
Working in around 16 different projects Jessy first started his career as a Broadway actor. The movies and Series he acted so far include a few hits but his recent projects like Law and Order and The flash finally brought him into the limelight.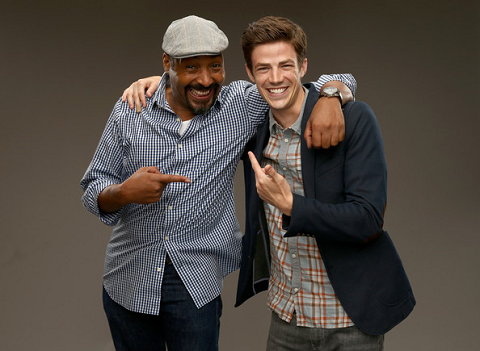 CAPTION: Jesse L Martin Grant Gustin CW Showtime 2014 The Flash
SOURCE: Zambio
The actor's salary is reportedly around $100 thousand per episode for The superhero Series The Flash, working in four seasons in almost all episode he should definitely earn more than $3.2 million from The flash series independently.