Vanessa Ray; an American actress and singer. She hit the spotlight after appearing in the "Pretty Little Liars" in the role of CeCe Drake. Also, she appeared in the legal drama series "Suits" as Jenny, "As the World Turns" as Teri Ciccone and "Blue Bloods" as Eddie Janko.
It's always a hard job to find out the personal life of any celebrity. Today, here let's talk about the Pretty Little Liars's star Vanessa Ray's personal life including her marital life and children. Check it out…
Vanessa Ray married to Landon Beard
First of all, let's know about their dating life. As per who's dated who, Vanessa Ray and American actor Landon Beard started dating since March 2009. The couple dated for six long years and finally got engaged in March 2015. Landon proposed her in the freezing temperatures during a walk along the Hudson River. She openly announced her engagement in her Instagram account. You can check her engagement ring here.
Source: instagram
Source: instagram
Source: instagram
Finally, after six long years' relationship and three months of engagement, the couple exchanged their vows on 14th June 2015. According to E! News, the couple tied the knot at the picturesque Condor's Nest Ranch in the eastern San Diego County, California.
Talking about their marital ceremony, Vanessa was spotted wearing beautifully designed dress by designers Shareen and Carol Hannah. In the next side, Beard wore Dolce & Gabbana shirt with a sentimental 1981 tie from his father. The couple looked extremely beautiful together. Check out their wedding album below…
Vanessa Ray and Landon Beard's Wedding Album  Source: eonline
Now they share almost two years of married life together and still counting on. The couple has not gone through any kind of break up rumors or divorce issues. The love bird has been in the relationship for more than 8 years, so we can claim the couple is happily living together.
Vanessa Ray and Landon Beard's Children
The couple does not have any children. If you check Ray's Instagram account, you might come across through numerous baby posts. Don't get confused! Those posts clearly reflect that she is fond of children. Looks like the couple is busy in their own world and have not planned for their family. Enjoy her posts…
Source: Instagram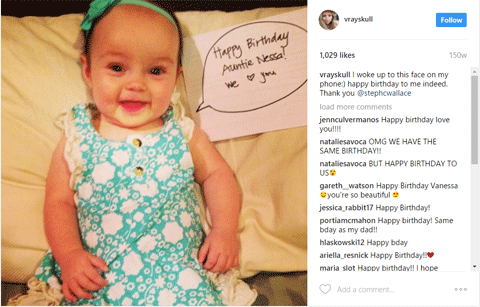 Source: instagram
Source: instagram
https://www.instagram.com/p/rTfVmZKOyM/
https://www.instagram.com/p/vJPMD3qO7t/
There is no doubt that the couple is happily enjoying their marital life. We will let you know about their future plans as soon as the couple talks about it.