Celebrities and their married life never get along. They often made headlines when they date someone right after the breakups or divorce and, basically, everything they do!
Relating that, Vanessa Ray is an American actress and a singer mostly known for her role in Pretty Little Liars as CeCe Drake. Apart from this, Vanessa is in another drama series named Suits and on Blue Bloods. But speaking of her personal info, she has been married for years with her husband, Landon Beard. So how is their married life going on? Let's find out.
Vanessa Ray's Married Life
Vanessa Ray has won millions of hearts after appearing in Blue Blood series, and it was a matter of time for Vanessa to gain fame in Hollywood. We all know her professional life is on a smooth road but is her married life going well as a career?
In January 2015, the Blue Bloods and Pretty Lairs star, Vanessa shared vows with musician Landon Beard. In that big day, Ray said "I Do" to Landon at Condor Nest Ranch in Pala calif after walking down the aisle.
Vanessa Ray, source: Pinterest
Some sources claimed that the wedding kicked off with the couple singing along with their wedding guest. The broom was looking astonishing with blue suits and matching tie and shoes.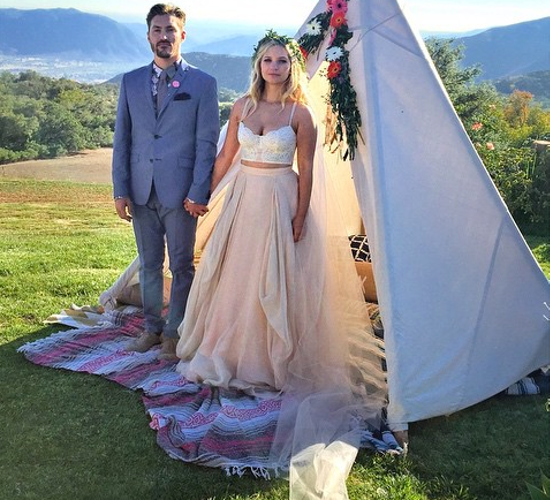 This 'Pretty Little Liars' Star Vanessa Ray at her wedding day, source: Pinterest
On the other hand for this particular day, Vanessa wore a beautiful light pink gown on the bottom which was designed by Shareen and Carol Hannah.
Vanessa and Landon kissed in late afternoon sunshine on their wedding day, source: Daily Mail
Before getting hitched, this couple got engaged in January after Landon proposed his future wife in cold temperature while walking along Hudson River.
Landon proposing Vanessa, source: hello magazine
With the prettiest pink gold sparkly ring on Landon's hand, Ray said " Yes" while he was down on his knee.
Vanessa's gorgeous ring by Jeano Georgiano, source: hello magazine
In an interview she said:
Landon is the best and made sure to get as many friends' opinions for me as possible
After a quick peep, Ray's Instagram, you can see adorable pictures of this couple. They often spend their time with each other, despite their busy schedule.
As for now, there are no rumors of them getting into fights or divorced. Yet they haven't decided to have kids.
Vanessa Ray past relationships and affairs
Before walking down the aisle with Landon, Ray was a married, woman. On January 8, 2003, Ray tied a knot with an actor and director Derek Baynham. Bayham is mostly known for his work on Nickelodeons' Ho Ho Holiday, Just Kidding and Coppertop Flop Show.
But after marrying for four years, Vanessa and Baynham decided to go different ways. In 2007 they ex-couple divorced.
Derek Baynham, source: IMDb
However, the reason for the split is still behind the closed doors.
It seems like after getting a divorce, they are still a good friend and keep in touch. In 2015, on the tweet of Derek, Vanessa replied with the emoji throwing kisses.