Tiffany Rivers Bio, Age, Husband, Kids, Net Worth
Tiffany Rivers Bio, Age, Husband, Kids, Net Worth
Born in 1982, Alabama, Tiffany Rivers is the wife of famous American quarterback Philip Rivers. The power couple has now more than seventeen years of history together, thanks to Philip's sense of humor.
Guess how many kids they have?
9!
It's time to take a peek behind the curtain, break down her timeline, and re-discover the best moments of her roller-coaster life.
Let's dive in, shall we?
Early Life & Relationship with Philip Rivers
Tiffany was raised in Alabama by American parents. She completed her high school from the same state. Unfortunately, there is near-to-no information about her early life on the internet.
Unlike most couples, Tiffany met her hubby, Philip, at a very early age. They were just in the seventh grade when they met each other. Philip says he pointed out Tiffany to his mom and said, "That is a good girl." He knew Tiffany was the one for him the moment he saw her.
Eventually, it didn't take them long to realize that they were a perfect match and started dating each other.
After dating for five years, Philip finally purposed to Tiffany during his freshman year of college at NC State.
And she said, YES!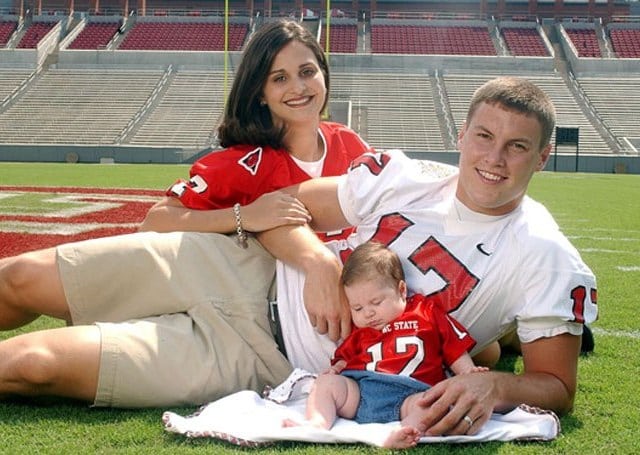 Tiffany got converted into Catholicism and started practicing it the day before their wedding. The lovebirds tied the knot the very next day on 19 May 2001.
Their first child, Halle, was born in 2002.
Despite her young age, Tiffany became a supporting wife and a caring mother. Tiffany and Philip are strong Catholics today and parents of nine awesome kids.
It's not easy to maintain a relationship for this long with nine kids to look after, but the Rivers have made it look effortlessly easy. When asked about their relationship, here's what the Quarterback had to say:
"On the rare occasion my wife and I will get some time to ourselves and leave the kids with a babysitter, we'll go to the movies or head to dinner. We're really simple people. Both of us are homebodies, so we like home dates. When the kids are all tucked in we'll watch a game that's recorded or just sit and chat."
Mothering Nine Kids
Tiffany's marriage is based on a "no-contraceptive" relationship.
No condoms, basically!
Tiffany converted to the Catholic faith and avoids every measure of birth control which is why she has nine kids. Well, still counting.
Phew!
Tiffany's kids: Halle, Caroline, Grace, Gunner, Sarah, Peter, Rebecca , Clare, and Anna Rivers. Here they are in ascending order of their age (left-to-right) except Anna Rivers:
Where it might be too much for others, Tiffany is happy being a mother of all the nine kids. The Rivers welcomed their ninth kid, Anna Rivers, on March 27, 2019. Here's what Los Angeles Chargers hilariously tweeted after Anna Rivers birth:
SHE'S HERE.

Welcome to the world, Anna Rivers ? pic.twitter.com/oafdNNI6lI

— Los Angeles Chargers (@Chargers) March 26, 2019
The tweet went viral and the world went mad over Tiffany's ninth kid. Check out some of the most hilarious tweets trending on Twitter. Are they done at number nine or likely to go for their tenth kid? What do you think?
Career & Net Worth
Tiffany is a housewife. She chose to be a supportive wife over pursuing a career.
Her husband is an American football star with an estimated net worth of $80 million. He shares his wealth with his wife. With a "combined" net worth of $80 million, Rivers live in a beautiful and luxurious plot of building in San Diego worth $3.299 million. Moreover, Philip owns a stunning modified Cadillac Escalade worth a whopping $200,000.
The Rivers started the Rivers of Hope Foundation in 2009 to aid orphaned children. The foundation aimed to find them permanent homes. They announced the end of the foundation in a statement in 2013.
What's your take on her life? Let us know in the comments.