When one is popular every people become curious about their personal and professional details. Likewise, the popular American country music singer and songwriter, Thomas Rhett's personal life with his wife Lauren Akins is a topic always discussed.
Several of Thomas fans are showing interest in his personal life these days. So, let's find out how his married life is going and also know more about his private life.
Thomas Rhett and wife Lauren Akins
Thomas Rhett and wife Lauren Akins have known each other since they were the first graders in Georgia. When Lauren was just 13 years old the couple went to a church camp together. At the age of 15, they finally started dating but their first attempt at relationship didn't work out and despite that, the couple remained best friends.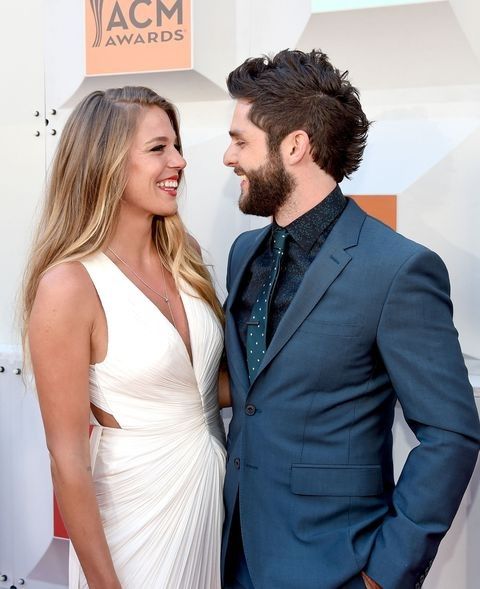 [ CAPTION: Thomas Rhett and Lauren Akins ]
[ SOURCE: Country Living Magazine ]
Later at their teenage, both of them got into a serious relationship with other people. In an interview with CBS Thomas said,
I almost married someone else and she did too.
But their decision was interrupted by Lauren's father and at the time he explained Thomas to say everything to Lauren clearly about how he feels towards her. After that Thomas ended his former relationship.
YouTube: Thomas Rhett's Kids Surprise Dad on Stage in Unforgettable Concert ;Surprise
Both of them, Lauren and Thomas kissed each other and that was it. Later they dated for six months and were engaged. The duo tied the knot in 2012. Well, now the family is not just of two as they thought of expanding their family in an announcement of an impending adoption and birth.
Thomas Rhett and wife Lauren Akins Children
As the duo thought of extending their family members by adaption as well as birth in 2017, they brought their first daughter named Willa Gray from Uganda. Their first biological child but a second daughter in member was born on August 12, 2017.
[ CAPTION: Thomas Rhett and his wife, Lauren Akins and their daughters, celebrated the ]
[ SOURCE: CBS News ]
Willa is now 2 years old and Ada is just 5 months. Both of them were afraid whether Willa will be the one they expected or not but seeing Laurens Instagram we can assume that she is too happy. She wrote on her account, My goodness, Willa Gray, we have never prayed so hard for anything. Now halfway across the world from where we first met, you're turning 2 and you are better than my best dreams.
[ CAPTION: Lauren Akins best part of life collection ]
[ SOURCE: Instagram ]
Recently Lauren told US Weekly that she wants a full house with kids. In a perfect world, she would want five kids.
The two girls, Willa Gray and Ada of Thomas and Lauren seem to have an adorable bond and their parents couldn't be happier than this. Let's hope their bond will grow stronger in the upcoming days.