Joaquin Phoenix is an American actor who won an Oscar for his outstanding performance in the movie "Joker." He has acted in many other well-loved films like "Walk the Line," where he played the role of Johnny Cash. Another one of his highly praised works is the "Gladiator," where he portrayed the treacherous Commodus.
Phoenix has been in a loving relationship with fellow actress Rooney Mara. Rumors have been swirling that they might have secretly tied the knot. But it is no secret that they're engaged. This means they're planning to spend the rest of their lives together, which is sweet. Let's have a look at Joker's dating history.
Joker Is Engaged To Rooney Mara
Joaquin Phoenix and Rooney Mara are a pretty private couple. They got engaged back in 2019, but they haven't spilled the beans on all the juicy details. The world started buzzing with engagement rumors when eagle-eyed folks noticed the actress wearing a big, shiny diamond ring on her left hand.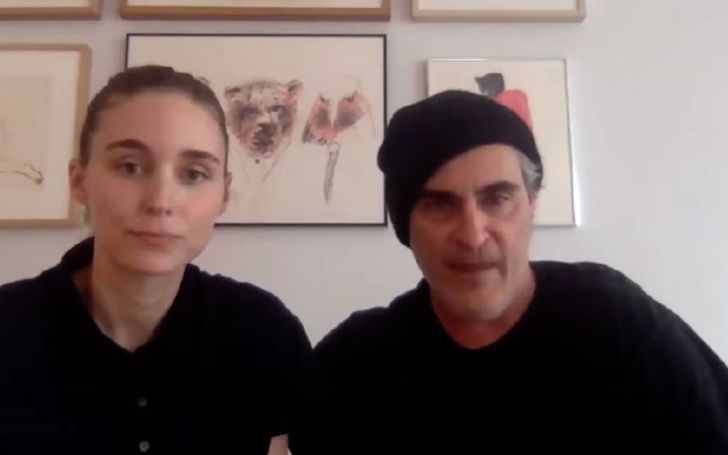 Joaquin Phoenix with his partner, Rooney Mara SOURCE: Joaquin Phoenix Updates YouTube Channel
It's kind of adorable how Phoenix and Mara have kept their love story mostly under wraps. Only time will tell if they will open up about their love life. Until then, we'll just have to admire their love from afar and wish them all the happiness in the world.
Have Phoenix And Mara Exchanged Wedding Vows?
There's been quite a buzz about Phoenix and Mara possibly becoming Mr. and Mrs. Phoenix. Rumors started swirling when he referred to the actress as his "wife" during an interview. That got people talking, but they've been pretty hush-hush about it all.
It's a bit of a mystery whether Phoenix and Mara exchanged those wedding vows or not. Maybe they've decided to keep their marriage on the down-low, which is their choice.
How Did The Actor Meet His Love?
Phoenix and Mara have a pretty interesting love story. They first crossed paths in 2012 while working on the movie "Her." In the film, she played his ex-wife. But here's the twist – despite spending time together on set, their romance didn't start right away.
Joaquin thought that Rooney didn't like him much. He figured she was a bit distant and maybe even unfriendly. But later on, he found out the truth – the actress was just a shy person.
Joaquin Phoenix and Rooney Mara in Her (2013) SOURCE: YouTube
The Joker had another chance to work together on-screen with Rooney Mara in the 2016 film "Mary Magdalene." This sparked even more rumors about their relationship, with people speculating that they might be dating. However, at that time, neither of them confirmed anything about their romantic status.
Phoenix and Mara finally decided to make their relationship public in a big way. They stepped out together as a couple for the very first time at the Cannes Film Festival on May 28, 2017. It was a significant moment for their fans and the media, who had been eagerly waiting to see them together as a couple.
Has A Child With His Partner
Phoenix and Mara's love story took another beautiful turn with the arrival of a child. They welcomed their first child together in August 2020. It's a boy, and they named him River Lee. The birth of their son brought even more joy to their lives and added a new chapter to their love story.
The name River Lee holds special meaning, as it pays tribute to Joaquin's late brother, River Phoenix, as mentioned in an article from Pop Sugar. His brother was also a talented actor and a deeply beloved figure in the industry.
Phoenix's late brother River passed away on October 31, 1993, at just 23 years old. His death was attributed to combined drug intoxication. He was an incredibly talented actor who had already made a mark with films like "Stand by Me" and "My Own Private Idaho."
Remember When The Joker Lied About The Engagement
Phoenix is known for his quirky sense of humor. And, he once pulled a little prank about his engagement on "The Late Show With David Letterman." During the show, he surprised everyone by announcing that he and his yoga instructor were engaged and planning to get married soon.
People were taken aback, thinking it was true. But it turned out to be a playful lie. Joaquin later appeared on "Good Morning America," It is there he confessed that he had made up the whole engagement story, as reported in an article from the Independent.
The actor provided insight into why he played that prank, saying, "I think, like, my life's so boring, and it seemed like something exciting to talk about, and I wanted the audience to like me." He also added, "They really like people getting married," which highlights the fascination people often have with celebrity relationships.
The Only Girl Phoenix Has Looked Online
Joaquin Phoenix opened up about his unique connection with Rooney Mara, revealing that she's "the only girl I ever looked up on the internet." It's quite a romantic and unusual way to start a relationship in today's digital age.
Before Joaquin and Rooney became a couple, they were simply "email friends." It shows that sometimes, the foundation of a strong relationship can be built on friendship and genuine connection.
Even when the actor was just "email friends," with Mara, there was something about her that piqued his curiosity. He admitted that he couldn't resist wanting to know more about the talented actress. He even said, "I'd never done that. Never looked up a girl online."
What Was Phoenix's First High-Profile Relationship?
Joaquin Phoenix's first high-profile relationship was with actress Liv Tyler. They were together from 1995 to 1998. They were quite a notable couple in Hollywood during that time. The two young actors caught the public's attention with their romance, and it was an exciting period in both of their lives.
Joaquin Phoenix's ex-girlfriend, Liv Tyler SOURCE: Liv Tyler Instagram @misslivalittle
Phoenix and Tyler's love story began on the set of the romantic drama "Inventing the Abbotts" in the mid-'90s. It's a tale that could easily be straight out of a movie. She has shared in interviews that she fell head over heels for the Joker the very moment she laid eyes on him.
Tyler's relationship with Phoenix had a surprising impact on her dietary choices. While they were together, she transitioned to vegan lifestyle, embracing a diet that excludes all animal products. Her decision to go vegan might have been influenced by Joaquin's vegan beliefs. However, she eventually returned to her previous eating habits after the split.
Other Relationships And Rumors Of The Actor
Joaquin Phoenix, aside from his high-profile relationships has been the subject of some rumors and speculations. In 2005, there were rumors that he had gotten close and intimate with actress Ginnifer Goodwin.
The actor's relationship with Topaz Page-Green was significant part of his life. They dated for several years, spanning from 2001 to 2005. During that time, they shared moments of love, laughter, and perhaps some challenges as well.
In the world of celebrity gossip, rumors can sometimes spread like wildfire. And one such rumor suggested that Joaquin had a brief fling with Lisa Ebeltoft in 2001.
Jodean Bottom's brother, Phoenix's relationship with Anna Paquin in 2001 was something that caught the attention of fans and the media alike. Both talented actors must have shared some special moments during their time together.
In the year 2000, Phoenix had a brief romance with Amelia Warner. Their relationship, though short-lived, marked chapter in both of their lives. The details of their time together are not widely known.
Check Out Hitberry for more