Before getting popular as a sound cloud rapper he didn't even have his own sound cloud account, all his songs were released on YouTube, but he didn't even have a YouTube account! Strange right? Wanna know who's that? Well, he's none other than TEKASHI69. Check out these top 10 facts about him.
It's only a portion of interesting revelation, the real facts are yet to follow. So stay tuned to Hitberry to know all the facts and rumors that surround the famous Rapper TEKASHI69.
Top 10 facts you need to know about TEKASHI69
Fact No. 10: Tekashi's real Name
The name TeKASHI69 is what he is known as now, but his real name was Daniel Hernandez born on 18th of May 1999. He grew up in Bushwhack Brookline New York and is of mixed Hispanic descent. His mother is Mexican, and his dad is Porto-recan.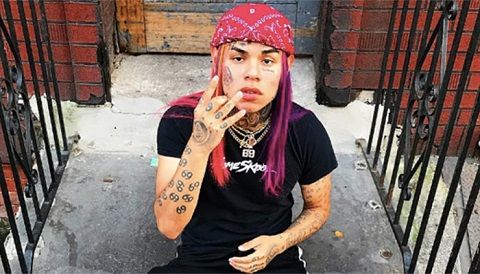 CAPTION: TEKASHI69
SOURCE: Gazette Review
Fact No. 9 (Kooda singer Tekashi69 tattooed number 69 all over his body)
The angry, wild rapper who reportedly tattooed the number 69 all over his body-----"69 times to be exact" is a new rap sensation who has taken over the web by storms.
8. Why 69 tattoos?
He said that the number had something to do with his childhood but the rapper has not addressed what exactly happened in the childhood that got him tattooed the number all over his body?
Here is something else that the rapper said about his tattoos which might further explain the meaning about his Tats. Once on a radio show, he said:
The name is actually a Japanese adaptation, and it means Warrior in Japanese, so that makes him a warrior of 69, or the 69 warriors. Whatever be the reason behind having a Japanese stage name, the name TAKASHI sounds super cool.
Youtube: Tekashi6ix9ine Explains Meaning Behind His Name
Fact No. 7: Tekashi tries to stand up for Problomed Children with the help of his songs
As he goes with the name |Warrior| he said his songs are to inspire the poor, underprivileged and bullied kids to carry on and live their lives which makes perfect sense.
Fact No. 6: Tekashi is a high school dropout
He grew up in poor family conditions and after his father was murdered few blocks away from his own home, he left the school and started working to get his family needs fulfilled.
CAPTION: Tekashi69
SOURCE: TMZ.com
Fact No. 5: Tekashi allegedly raped an underage girl
Takashi is rumored to have raped an underage girl but nothing has been proved so far. He was alleged with rape allegations from someone that helped him climb the ladder of fame.
Fact no. 4: His Instagram, Sound Cloud, And Youtube has been deleted on several occasions
Tekashi was viral for his off the charts style, and his Instagram has been deleted six times for offensive imageries. Moreover, his YouTube account has also been deleted for the same reasons.

CAPTION: Takashi69
SOURCE: Rap Basement
Fact No. 3: Tekashi 69 sold drugs before fame
Takashi sold drugs along with his brother before he was famous and most of his music is influenced by a metal band called All That Remains and Parkway Drive.
Fact No. 2: Tekashi considers all his music trash
It's true that Takashi considers all his music trash, but he actually loves his late 2017's track, Gummo. The song has more than 150 million views on YouTube.
Fact No. 1: Tekashi and his criminal background
Takashi was pled guilty to 3 felonies in counts of Using a Child in a Sexual Performance but he was lucky as he was just 18 years old on the date of the crime and the victim was a minor of an unconfirmed age. So no serious actions were taken.
We hope you enjoyed these interesting Tekashi related facts. Keep updated with us for cool videos and more celebrity updates.