The National Hockey League Awards is here! *drum rolls*
Although the NHL Awards is set for the 22nd of June in Las Vegas, the finalists for the Ted Lindsay Award was announced on Friday. The three finalists were voted by fellow members of NHLPA, National Hockey League Players' Association and one of the finalists will be named as the "Most Outstanding Player" in the National Hockey League.
So without any further ado, let's find out who our Ted Lindsay Award's finalists are!
First up the number is Dallas Stars forward Jamie Benn.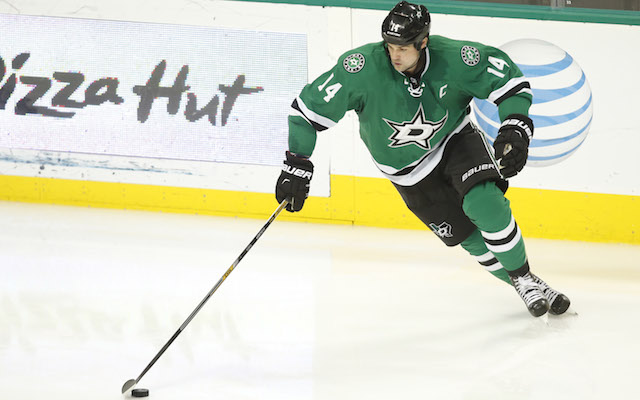 Jamie Benn Source:CBS Sports
Jamie Benn who had earlier also been nominated for the Ted Lindsay Award is the star behind getting Dallas Stars to a first-place finish in the Central Division. The former Art Ross Trophy winner finished second in scoring with 89 points and third in goals with 41. Benn finished second in both power-play goals (17) and points (30). Benn's 1.09 points per game average were also the league's second-best mark. He led all Stars forwards in average time-on-ice with 20:01.
The next player who made it to the finals is Patrick Kane.

Patrick Kane Source: Chicago Tribune
Kane was the first ever American-born player to win the Art Ross Trophy. During the regular season, Kane was the NHL's leading scorer with 102 points! Earlier there had been no player in the league who broke 90 points! He is only the fourth different player since the 2010-11 season to top 100 points in a single season, joining a list that includes only Crosby (2013-14), Evgeni Malkin (2011-12) and Henrik Sedin (2010-11).
The third player who made it as a finalist is Braden Holtby.

Braden Holtby Source: Saskatoon Starphoenix
Goaltender Holtby is a Vezina Trophy finalist as well. Holtby's 48 wins tied Martin Brodeur for the most wins in a season ever, and Holtby did it in 12 fewer games than Brodeur did when he set the record in the 2006-07 season. This year, Holtby became the 13th goaltender in NHL history to post multiple 40-win seasons and is the seventh goaltender in NHL history to record consecutive 40-win seasons. Holtby is first in franchise history in save percentage, tied for first in goals-against average, second in wins and shutouts and third in games played.
This surely7 is going to be one hell of a tough competition! May the best one win!