If men have children from two different women or wife then its normal. But in case of women, she has two children from two different men then our society might take it in a negative way. Likewise, Stacey Solomon is also facing the same thing in her life which makes us compelled to think about male dominated society still prevailing in the 21st century.
The former X Factor contestant, Stacey Solomon, is the mother of two children, but the father of her two children is different. Maybe you are wondering to know who the fathers of her two children are? Don't worry, we are here to provide you with all the details about Stacey Solomon and her kids.
Also see: Singer and Reality star Stacey Solomon dating Steve-O, released her debut album 'Shy' this April
Father of Stacey Solomon's children
Zachary Solomon is the first child of Stacey Solomon. He was born in the year 2008 form her relationship with boyfriend Dean Cox. The couple stayed in a relationship for just two years but, during that time their first son was conceived.
[ CAPTION: Stacey with ex-fiancé and her children ]
[ SOURCE: Hello Magazine ]
As for the second son, Leighton Barham, he was born in the year 2012 with her fiancé, Aaron Barham. The couple got engaged in 2011 and was in a relationship for a total of four years. The reason for their breakup is still not officiated.
Was it easy for Stacey to face a society after revealing the fact of her multiple fathers of her children?
Of course, it was hard for Stacey. Even if we say we are free from the male-dominated society, females are still dominated. The 27-years Stacey also opened about having two children from multiple partners. And obviously, like others, she also has fear and several unanswered questions on her mind. What will the society think? How will they treat me?
[ CAPTION: Stacey with her Kid's ]
[ SOURCE: Hello Magazine ]
In The Huffington Post, she stated that once in her life she felt stigma against having multiple children from different partners. In addition, she stated the incident with an unnamed (well-known person) who publicly said that Stacey should stop having children. It will prevent her sons from being in confusion. At that time, she also thought maybe her sons are confused.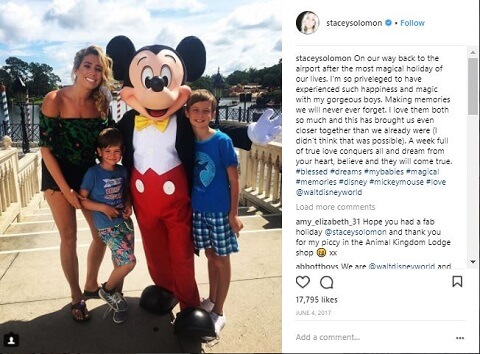 [ CAPTION: Stacey celebrating holiday with her kid's ]
[ SOURCE: Instagram ]
Stacey also opened up that she was one of the three children before her father married with other women. Later on, she became one of the seven. But even after that, her mom would join on a family holiday with her father and stepmoms and it would be like we were just an extended family not separated one. So, she said that she also had a great relationship with her kid's father.
Stacey Solomon feels too guilty to have kids with her boyfriend Joe Swash
Stacey doesn't want to have a child with Joe because she feels unsecured about her others sons will be left out if she has a child with Joe. Even now, she is feeling guilty to have kids with her current boyfriend Joe because she doesn't want to have any more children from a different father.
[ CAPTION: Stacey with her boyfriend Joe and her kid's ]
[ SOURCE: Daily Mirror ]
Stacey disclosed to the Star Magazine that if the father of her next child stays with her, then will the other kids feel bad about being alone? It's a difficult thing to have children. She added nowadays that she doesn't care how people view her but she gets worried how things will affect her kids.
[ CAPTION: Stacey celebrating Christmas with her kid's and boyfriend ]
[ SOURCE: Instagram ]
Stacey has disclosed that she has never left her sons alone with anyone. Even she has admitted that she has never left her sons alone with her boyfriend Joe because she has fear of leaving her children.
Even after having a child from multiple partners, Stacey is taking care of her children pretty well and her new boyfriend is also supporting her to take care of her children. Hope her decision to not have any children from new partners will not create a problem between them.