Everyday celebrities love affairs makes gossips on their internet. Their break up, dates, and marriage news spread like a wildfire and we all get eager to know about them.
Here, we are back with another news on a celeb. Sofia Boutella is the hottest news on the internet right now. Well, let's dig into her past and find some real facts.
Sofia Boutella's dating rumors, know the unknown facts
French-Algerian actress Sofia Boutella is having a blast this year. If you watched the movie "The Mummy" you will be familiar with the name Sofia Boutella. Well, the character she played does not resemble her personal life.
Sofia Boutella, Source: s-media
Sofia Boutella is shining in her red carpet, with her back-to-back hits on big theater. Last year Boutella star in Star Trek Beyond. Well, this beauty dated a hot actor, Chris Pine. Yes, you read it right. Sofia dated Hollywood heartthrob Pine for months.
Sofia Boutella and Chris Pine at the promotion of The Star Trek, Source: the sun
However, any actual facts about them going on dates are not found. If you look at their past, they look like a good friend.
But when a source revealed that Pine and Boutella were flirting at the NYLON Midnight Garden Party, fans got a little suspicious. Is friendship turned into romance?
Chris Pine and Sofia Boutella, Source: images
Based on her Instagram, Pine and Boutella got closed when they met at a set in 2016. Over the summer of 2016, she also posted a cute video of the two goofing around on set before Star Trek Beyond was released.
Sofia Boutella dating her Boyfriend Robert Sheehan
Well, Sofia Boutella is in a serious relationship with her boyfriend Robert Sheehan. Sofia 26, and Robert 32 filmed her movie The Independent and soon they got attracted to each other.
In an interview, the actor was asked who the last girl he saw in the nude was, and he replied: "It was a girl called Sofia." Well, they got steamy.
Robert Sheehan and Sofia Boutella, Soure:CDN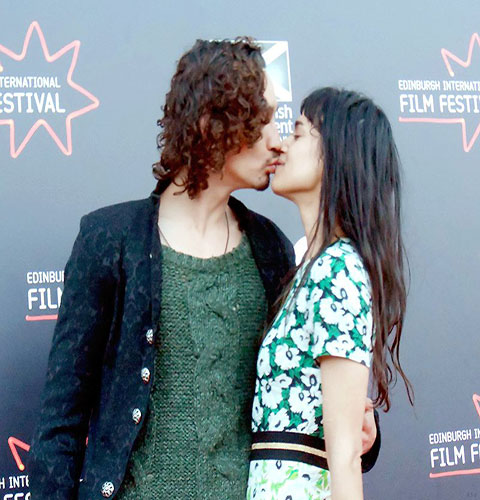 Robert Sheehan and Sofia Boutella, Source: Pbs
Robert is a romantic person as he gave Sofia Boutella a surprise weekend, however, it was ruined when Tom Cruise gave them both a helicopter ride while shooting The Mummy movie.
Sofia is one of the rising stars in Hollywood. With big movies like The Kingsmen, The Mummy, and Atomic Blonde, she is shining on the red carpet. We wish her to be a more successful actor in coming days.
Robert Sheehan and Sofia Boutella, Source: Pbs
In 2017, it is rumored, Robert and Sofia end their relationship. Keep in touch with us as we will continue to give more news on Sofia Boutella's relation.