Seth Meyers is Living Happily with his Wife Alexi Ashe; Know about their Married Life and Children
Seth Meyers is Living Happily with his Wife Alexi Ashe; Know about their Married Life and Children
Seth Meyers has always been successful in making others smile by his great comedian talent, but how happy is Seth himself, when it comes it his personal life? You might know that Seth Meyers is happily enjoying his married life with wife Alexi Ashe.
Leaving every Seth Meyers' professional information aside, we will be talking about Seth Meyers's personal life that includes his married life, children, and relationship. Get to know everything about Seth Meyers' married life and children.
Seth Meyers and Alexi Ashe
Meyers and Ashe makes a great couple and have been together for quite a long time. They got together in 2005 and dated for eight years. After dating for around eight long years, the couple then got engaged.
After two months of engagement, the duo tied the knot on first of September, 2013. They have been living happily ever since.
[ CAPTION: Seth Meyers with his wife Alexi ]
[ SOURCE: whosdatedwho ]
Now, talking about how the couple met, in an interview with Your Tango, Meyers told that he met his wife at Chris Kattan's wedding. He told in that interview that,
'Attending weddings, though expensive and time-consuming, can sometimes be pretty great'.
Well, adding on to the couple, they are not just the family of two! That's right, the duo is blessed with children as well. But how many children do they have? One? Two? Or more? Read down to know everything!
Seth Meyers and Alexi Ashe's children
After three years of marriage, the couple was blessed with their first child, Ashe Olsen, on 27th March 2016.
Also, read: Seth Meyers and President Obama make jokes about Donald Trump at the White House Correspondents Dinner
[ CAPTION: Seth Meyers with his wife and first baby boy ]
[ SOURCE: Daily Mail ]
The family is now ready to welcome a new member in the family. You heard it right! Alexi has been posting her pictures with baby bumps recently on various social media. Last November, the couple were seen at the opening night of the Broadway show Meteor Shower with a baby bump on Alexi.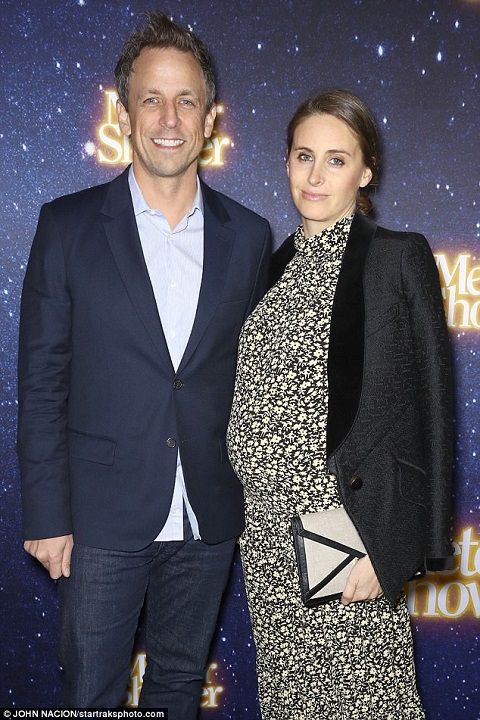 [ CAPTION: Seth Meyers and his wife with a baby bump ]
[ SOURCE: Daily Mail ]
The couple officially announced the baby number 2 on their show 'The Late Night With Seth Meyers'. Seth made the announcement alongside his parents and his brother whom he invited as guests in his show.
Congratulations to the couple! We hope to hear more about the couple's baby number 2 real soon.