Marriage and divorce have now been a common topic in Hollywood. We hear the news of divorce right before one gets settled. In the list of the divorced couple, how can someone forget about Barry Sanders and wife Lauren Campbell?
Well, the celebrities are found changing their partners more often. After the failure of his relationship with Lauren, is the proficient football player dating anyone? Keep Scrolling!
Barry Sanders's Unsuccessful married life with Lauren Campbell
After being together for twelve years with Detroit TV anchor Lauren Campbell, the couple got divorced. The pair tied the knot back in 2000 and was blessed with three sons together; Nigel, Nicholas, and Noah.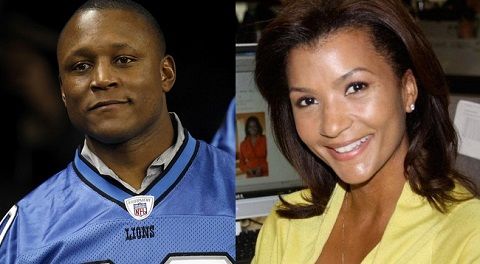 [ CAPTION: Barry Sanders Divorce: NFL Legend Files for Divorce fro ]
[ SOURCE: The Inquisitr ]
The former Detroit Lions filed for divorce in Oakland County Circuit Court. Sanders while filing a divorce said that there had been a breakdown in the marital relationship and there's no way for the couple to be together. According to the information provided to TMZ, the couple recently went to a mediator to help work out their issues, but it was a total failure.
Although the couple has decided to be apart, Sander intends to pay child support. He wants his wife Lauren to maintain their children's health insurance and pay all their health care expenses.
Barry Sanders with Aletha House
The football player was in a relationship with Aletha House. The couple was not married but was blessed with a son Barry J. Sanders. Their son, Barry J. Sanders played running back for Stanford University from 2012 to 2015.
[ CAPTION: Barry J. Sanders cheers for his teammates with his mother Aletha House ]
[ SOURCE: NewsOK ]
Is Barry Sanders Dating Anyone?
Barry Sanders is kinda uptight about sharing his personal details. As he prefers to keep his personal information away from media and public, there is not so much information regarding him. He is also not seen active on social media platforms. Regarding his current relationship status, he is possibly single.
[ CAPTION: Barry Sanders ]
[ SOURCE: Detroit Athletic ]
But as we know that, Sanders is planning to look after the children's health and support them we can assume that he might be focusing on it. On the whole, after his divorce with Lauren Campbell, he is not romantically linked with any other girls. So, it won't be wrong to say that Sanders is focusing on his professional career rather than building a healthy love life.