27-year-old Instagram model Ruby Tuesday Matthew took to Instagram and announced her engagement with boyfriend Shannan Dodd on 19th June 2021.
Byron Bay star posted a photo with her hand on Dodd's face showcasing her beautiful baguette cut diamond ring. Learn more about Matthews and Dodd's relationship.
Ruby & Shannon's Love Story & Engagement Announcement
The couple recently announced their engagement via Instagram just a few weeks after their relationship was made Insta-official.
CAPTION: Australian influencer Ruby Matthews announced her engagement with beau Shannon Dodds
SOURCE: Instagram @rubytuesdaymatthews
Though the couple made their relationship public a few weeks ago, they have been dating privately for a while as per reports.
On 19th June 2021, Matthews took to Instagram and revealed the new chapter of her life with a photo of her kissing her partner Shannan Dodd and captioned "My favourite person,". In the photo, we can clearly see the baguette-cut diamond ring.
Similarly, she even uploaded a video of herself showing off her fresh manicure while flaunting the sparkly stone.
Who Is Shannon Dodd? Short Personal Details
Shannon Dodd was born in Australia. He is reportedly in his late 20s as of 2021. Likewise, he is a DJ by profession.
Besides this, Dodd has kept information regarding his family, siblings, and educational background under wraps. He rose to the spotlight for his relationship with then-girlfriend Pip Edwards.
Despite being professionally involved in the entertainment industry, Shannon is quite private regarding his personal life.
Matthews's Past Relationship: Who Was She Dating?
The Australian model was spotted having a good time at the beach in Byron Bay with her then-boyfriend Dan Bottari. The couple was accompanied by Ruby's two children: Rocket and Mars. However, no news of their relationship or split hit the internet after that day.
The mother of two also dated pro surf photographer Ryan Heywood with whom she shares her two sons.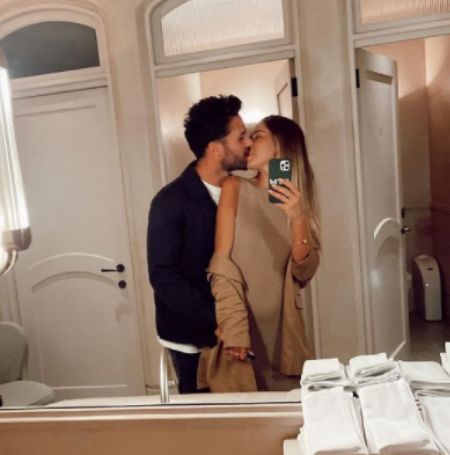 CAPTION: Ruby and Shannon announced their engagement few weeks after going Insta-official
SOURCE: Instagram @rubytuesdaymatthews
In a similar way, she also dated businessman Cameron Northway for a while. He co-owns the Rocker restaurant on Campbell Parade in North Bondi.
On the other hand, her fiance Shannon dated the activewear mogul Pip Edwards back in 2019.
Fun Fact: Cameron Northway and Pip Edwards are currently dating and are often seen together in the public.
Ruby Tuesday Matthews' Oyster Gate Incident
Back in October 2020, Ruby faced a huge backlash after defying Jetstar staff's orders and leaving the airport to dine on oysters at a nearby restaurant.
She reportedly left Ballina airport during a delay and went to dine on oysters at a swanky restaurant. This made other passengers forcibly wait for Ruby for about 30 minutes after they were set to take off.