Wasn't it on June 26 last year that the United States of America legalized gay marriage and painted its monuments the rainbow color in the celebration of this fantastic achievement? In fact, the United States Supreme Court even cited it as the law of the land. So does this rule of law not apply to Alabama or is Alabama not a part of the United States of America? News has it that Alabama Chief Justice Roy Moore instructed probate judges throughout Alabama to ignore those higher courts and to refuse to issue licenses to same-sex couples.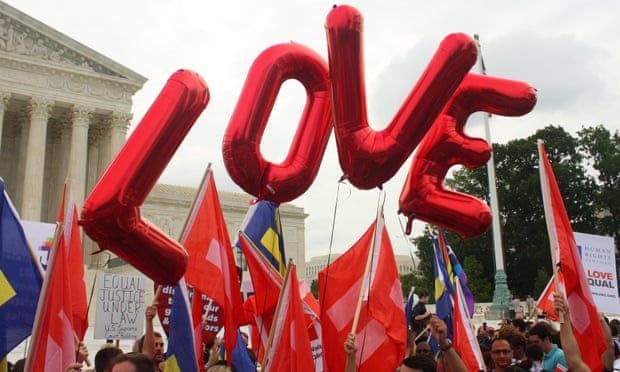 Activists outside the supreme court celebrating the legalisation of same-sex marriage. Source: The Guardian
Thank the Lord because Roy Moore got suspended from his position of the state's Chief Justice for his immoral behavior, violating judiciary ethics in his response to federal court rulings on same-sex marriage.
However, this isn't the first time homophobe Moore has been in this situation. He first got in trouble for flouting federal court ruling ordering the removal of a Ten Commandments monument he had installed in the courthouse rotunda. As a result, he was removed from the office of chief justice!
Here's what HRC Alabama State Manager Eva Walton Kendrick had to say about Moore,
"Roy Moore is an embarrassment to the state of Alabama. He has repeatedly used his authority to discriminate against LGBT people and their families, and to defy federal marriage equality rulings. Moore's suspension is welcome news, and we expect the Ethics Commission will permanently throw him out of office after reviewing his pattern of intentionally flouting the laws he vowed to uphold."
Love always wins!