The full name of Kellyanne Conway is Kellyanne Elizabeth Conway. She is an American political activist who is currently serving as the Counselor to the President for Donald Trump. She is also known as a strategist, a pollster, and a Republican Party campaign manager.
You might know Kellyanne as the CEO of The Polling Company Inc./ Woman Trend and also a former president. Now, people are attracted towards Kellyanne's personal life. Let's discuss more about her marital life with George T. Conway. Check it out…
President Counselor of United States Kellyanne Conway's Marital Life
After Kellyanne got selected as the counselor of Donald Trump and her husband George rumored to be selected for Trump's Top Supreme Court Lawyer, the couple has now been in limelight. If you are keen to know about Kellyanne's personal life then we are here to inform you that Kellyanne Conway is already a married woman. She is married to a New York-based wealthy lawyer George T. Conway.
Kellyanne Conway Source: wennermedia
The couple first met in Yale Law School thus they are believed to be high school sweethearts. Many people claim that the couple dated before they tied the knot. The couple got married on April 28, 2001, and since then the couple is happily enjoying their marital life.
Also See: Find out the Relationship of Kellyanne Conway with her Husband George T. Conway III
Kellyanne Conway with her husband George T. Conway Source: .twimg
Perfect #Yankees game. 6-run come from behind 9th inning, all 4 kids here & waitress asked for my ID #NewYork pic.twitter.com/LrFWQ2d4F5

— Kellyanne Conway (@KellyannePolls) June 30, 2016
Our own "Prince George" at 2 yrs old, with twin Claudia and Welsh Corgi (Queen's favorite dog) #royalbaby pic.twitter.com/AyLmvty0NQ

— Kellyanne Conway (@KellyannePolls) July 25, 2013
Happy 10th #Birthday, George and Claudia! #Eagles pic.twitter.com/rFF26KdEMk

— Kellyanne Conway (@KellyannePolls) October 17, 2014
President Counselor of United States Kellyanne Conway's Children
The president counselor is blessed with four children in total. The couple has a set of twins and two children. The children are under 12 years old. George Conway and Claudia Conway are the names of her twin's children. The twins' children are studying in the sixth grade at the New Jersey Private School.
She is also the mother of an 8- year old girl who is studying the third grade. Her next child is also a girl who is now studying in first grade. Charlotte Conway and Vanessa Conway are the names of her younger daughters. The younger children are studying in the public schools.
Moreover: Who is Kellyanne Conway's Husband? Know about her Married Life and Children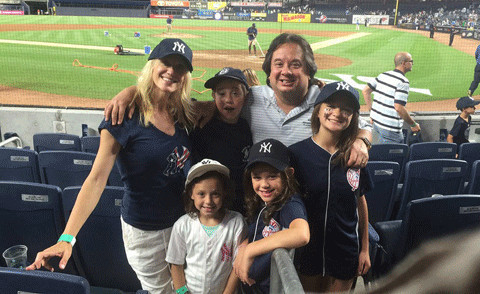 Kellyanne Conway and George T. Conway with their four children Source: dailymail
#openingday fun. #Yankees fans in #Phillies camouflage 2 root against #redsox. saw 1st grand slam of season! #mlb pic.twitter.com/Jsfh0I7efW

— Kellyanne Conway (@KellyannePolls) April 6, 2015
Her official Instagram account clearly shows that she is happily enjoying her life as a mother and as a wife. There is no doubt that being a mother and a wife is really a tough job. But she seems to be a perfect woman who is just great at handling the personal life and professional job.