Max Scherzer is back at it again making history, one at a time. The Washington Nationals right-hander Scherzer has made history once again by striking out 20 batters in a nine-inning game. He made this major-league record while beating his former team, the Detroit Tigers in a 3-2 victory on Wednesday.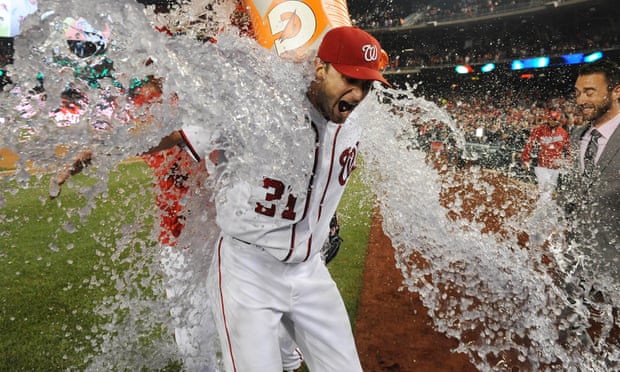 Max Scherzer gets soaked following his major league record. Source: The Guardian
Scherzer had 96 strikes and issued no walks, dominating the Detroit batters all night. He only allowed two runs on six hits, including a ninth-inning homer to J.D. Martinez. He entered the ninth with 18 strikeouts before fanning Miguel Cabrera and Justin Upton. The Nationals had their glorious victory, and Scherzer's performance will definitely go down as one of the most dominant in MLB history.
Max Scherzer left The Tigers after the 2014 season when they couldn't agree on the terms for the contract extension. Scherzer later ended up on a $120 million deal with the Washington Nationals for seven years.
Max Scherzer's remarkable performance and his glorious strikeouts will leave an impact on us for years to come.