We all know NBC's sweetheart, the Today Show news anchor Natalie Morales and her beautiful personal life has never been hidden from us! Natalie Morales has been married to an investment banker and founder of Stockton Road Capital, Joe Rhodes since August of 1998. The beautiful couple has two sons; Joseph Stockton Rhodes,12 and Luke Hudson Rhodes, 8. Natalie, Joe, and their children together make one hell of a beautiful family.
Throughout her 18 years of marriage with the Stockton Road Capitol founder Joe, there has been no news of any kind of friction in their relationship. The couple has never been on the verge of ending it all and filing a divorce, unlike many other media personalities. It's a commendable thing, how Natalie and Joe have managed to commit to their marital relationship when they have such huge work commitments!
Along with a successful personal life, the charming Natalie Morales has a very successful professional life as well. The 42-year-old American journalist has worked as a reporter and correspondent for networks like WVIT-TV, WNBC, and MSNBC. She has reported a number of important events like 2004 Presidential election, the 2004 Summer Olympics in Athens, Greece, the Iraqi prisoner abuse, Operation Iraqi Freedom, the Space Shuttle Columbia disaster, the Northeast Blackout of 2003, the 2002 Beltway sniper attacks and the investigation and trial of Scott Peterson.
Apart from her amazing career and husband, Natalie is very fond of her children. While many siblings spend most of their time fighting than sharing love, Natalie's sons; Josh and Luke share a very special bond as Natalie shared to PEOPLE,
"Josh is such a protective older brother. I thought with the five-year age difference, they wouldn't be this close," she shares. "It's a good difference, there's no competitiveness. When they get to high school, they'll be far away. I didn't plan that, but I got lucky."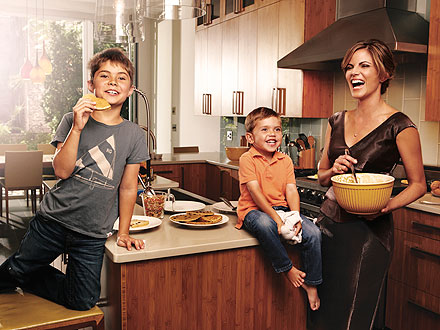 But that does not mean her children are any less naughty,
"No white couches! No way. All my couches are specially treated so things bead off," she reveals. "It was important to me that everything is really usable and nothing that I would care if it gets battered. When you have young boys, you can't expect to have nice furniture."
Natalie Morales and family lived in their Hoboken home in New Jersey until she had to move down the west coast for her job. But looks like the Morales-Rhodes family's having a great time down on the west coast!
Learning to make tortillas with the wonderful @SusanFeniger at @BorderGrill! Delicious dinner! Thanks Susan pic.twitter.com/XsTDoznS2f

— Natalie Morales (@NMoralesNBC) June 12, 2016