Everything about Mary-Kate Olsen's Ex-Husband Olivier Sarkozy
Everything about Mary-Kate Olsen's Ex-Husband Olivier Sarkozy
French Banker Olivier Sarkozy is popularly recognized for being the husband of former actress Mary Kate Olsen. While Olivier is a successful well-known businessman, he has been making headlines due to a surprising turn of events in his marriage.
While Mary Kate might not need an introduction, you may want to know a thing or two about her husband. So, here are 7 facts you need to know about the 51 years old Olivier Sarkozy.
Mary Kate Olsen's Ex-Husband Olivier Sarkozy is a French Investment Banker
Olivier has held a number of positions in the world of investment banking including The Carlyle Group and the UBS Investment Bank. In 2017, he also founded a private equity firm, Further Global Capital Management. He is also a member of the Boards of Directors of Bank United in New York.
Olivier Sarkozy is 18 Years Older Than Mary-Kate Olsen
In 2012, 26 years old, Mary Kate and 42 years old Olivier were spotted in a handful of PDAs at the Madison Square Garden. Despite having a huge age difference, the couple went on to get married on November 27, 2015, at a private residence in New York City.
Olivier Sarkozy's Half-Brother Nicolas Sarkozy is a French President
Olivier shares the same father with his half brother, Nicolas Sarkozy. Nicolas served as the President of France for 5 years from May 2012 up until May 2017. Besides Nicolas, Olivier has two other half-siblings. They spent most of their childhood together.
What is Olivier Sarkozy's Net Worth?
Like any other successful woman, Mary Kate has a prenup to protect her fortune in case the couple ends up getting divorced. Her husband has no access to her fortune that she built from a very early age. Olivier Sarkozy has a net worth of $60 million whereas his wife, Mary Kate has $250 million as of 2020.
Olivier Sarkozy's Ex-Wife #1 is Charlotte Bernard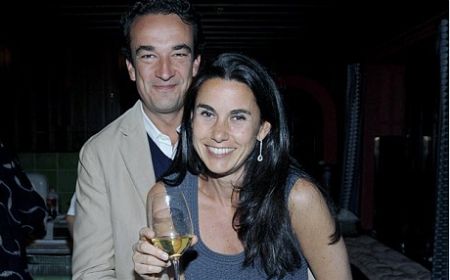 Before tying the knot with Mary Kate, Olivier was married to freelance fashion writer and author, Charlotte Bernard. The couple was in fact married for a solid 14 years before splitting up in 2010. The couple got divorced the following year.
Mary-Kate Olsen Filed for Divorce from Olivier Sarkozy
After the New York Courthouse reopened, Mary Kate went on and filed for a divorce from her financier husband, Olivier. She had previously attempted to split but her case was rejected as the courts did not accept any new non-emergency cases amidst the Coronavirus pandemic.
The 33-year-old had to find a new place amid the health crisis as her husband ended the lease on their $29,000 Gramercy Park pad. The reason behind the divorce is still unclear.
Olivier Sarkozy has Two Children From His First Marriage
Olivier has two children, Margot and Julien from his previous marriage. The 51 years old Banker does not wish to have any kids in the future. Although his wife, Mary Kate was on the same page, she somehow changed her mind and wants to have a family.