Gorgeous Mandy Moore is a successful American singer, song writer and actress. She is counted in one of the multi-talented celebrities of Hollywood. Because of her melodious voice and acting skill, she succeed to win millions of heart.
Talking about Mandy Moore's relationship, she is linked up with many handsomest heartthrob of Hollywood. But her marriage with Ryan Adams attract everyone's attention though it ended in 2016. Today, we are going to reveal the actual reason behind her divorce and past relationship failure.
Mandy Moore and Wilmer Valderrama
Mandy's first ever boyfriend or love interest is Wilmer Valderrama. It is said that she was in a serious relationship with him. Duo dated each other from 2000 but something turned ugly and they ended the relation in 2002.
Mandy moore and Wilmer Valderrama
source: usmagazine.com
Mandy Moore and Andy Roddick
Talking about Mandy and Andy relationship they seem too fond for each-other. They partied together, attending red carpet together but this relation doesn't last long and they separated apart though they still remain good friends.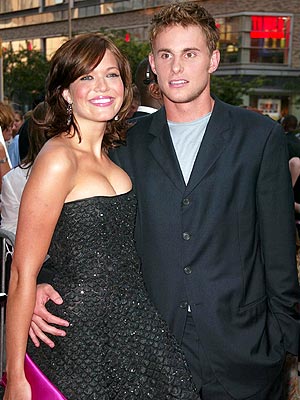 Mandy and Andy
Mandy Moore short-term relationship
After break up with Wilmer and Andy, Moore want some serious relationship and in this process she dated many handsome guys including; Zach Braff, Adam ''DJ AM", Greg Laswell, Georges St. Pierre, but unfortunately none of the relation lasted for a long period.
Mandy Moore and Ryan Adams
Mandy Moore dated song writer Ryan Adams in late 2007. Duo enjoyed each other company and seen probably together in most of the public places. They gave big surprised to their fan in 2009 when they decided to get married. There is rumor of their divorce in Hollywood since 2014 but they denied it at most time.
In 2016 when both of them came together for their divorce and decision of ending 6 year relationship it becomes shocking for everyone. Many of their fans still don't believe that two of them are not together anymore.
Mandy Moore and Ryan Adams
Source: dailymail.co.uk
Why Mandy and Ryan get Divorced?
Mandy and Ryan divorce is much talked topic of 2016 when duo file case for divorce. There is not any specific reason of their divorce but in interviews they said 'it is respectful and amicable parting away decision' they both don't blame each other for divorce and asked media to respect their privacy because they were going through really tough time.
Is Mandy is in New relationship?
Mandy is always seem to be open about her relationship. After her divorce with Ryan she choose to be single until she found someone special but for now rather than searching new relationship she want to stay focus on her upcoming song and TV show 'This is Us'. As per source, Mandy and Ryan were still good of friends.
Source: thetvppage.com