Krista Allen dating Castle's Nathan Fillion? Do they plan on getting married?
Krista Allen dating Castle's Nathan Fillion? Do they plan on getting married?
A comedian is someone who tells the truth and can turn laughter into tears and back again. Krista Allen is also among them. She is an American comedian and actress. As she is famous among millions is her fans for her for her elegant acting and comedy, in recent days her net worth and career is most talked about.
Well, here we have gathered all the information regarding Krista Allen net worth and career. To know more keep scrolling.
Krista Allen dating Castle's Nathan Fillion?
Krista Allen and Nathan Fillion who is the star of Castle is dating for 2 years and rumors regarding their relationship have begun to hit the limelight. Moreover, the couple seems to be planning their marriage in the near future.
Nathan Fillion dating George Clooney's ex-girlfriend Krista Allen, Fillion still unmarried while his alleged girlfriend is twice-divorced
Reports have suggested that despite Krista considering herself being unlucky in love she now believes she has met her match and there could be the third marriage for her. The couple has been very outspoken about their romance and some hint that Nathan is looking forward to marrying Krista more than the other way around.
Also read: Actor Nathan Fillion's Romantic Life Detailed: Dating George Clooney's Ex-Girlfriend Krista Allen
[ CAPTION: Krista Allen and Nathan Fillion ]
[ SOURCE: Dailymail ]
Reportedly Krista Allen has already introduced her children to Nathan and they seem to be getting along very well. This is the first relationship of Nathan which has been out in the open. Prior to this, his other associations have always remained shy and away from the public eye.
[ CAPTION: Krista Allen and Nathan Fillion dating ]
[ SOURCE: justjared ]
Nathan has not yet married but is well known for his illustrious dating life over the years. In the begging of their affair they kept their dealings a secret but later they opened up to everyone about their new found love.
Krista Allen past affairs
Krista Allen is among those who have been through different paths of relationship. Well, she is married twice and has one child. Krista previously tied the knot with her husband Mams Taylor, with whom she was married for only two years.
[ CAPTION: Krista Allen with Mams Taylor ]
[ SOURCE: celebrity gossip news ]
Moreover, Krista first husband was Justin Moritt and has a son Jakob Nolan Moritt. Her first relationship also didn't last for long. Well, the former pair separated after 3 years. Although the pair is not in contact, Krista loves her son very much and she has said that her son is her number one priority. It is said that the reason behind their separation was her son.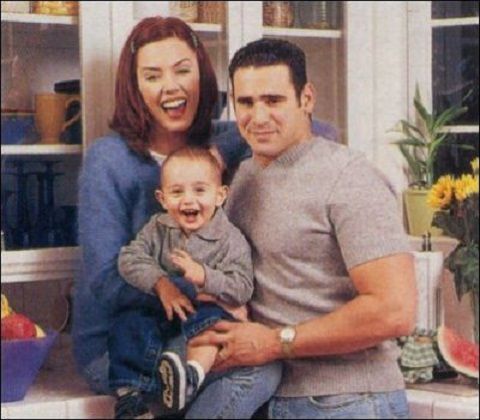 [ CAPTION: Krista Allen with Justin Moritt ]
[ SOURCE: Gazing Stars ]
Her dating life has also been always closely monitored by the public mainly because of the people she was involved with. Her most famous affair was with actor George Clooney.
More about Krista Allen
Krista, back in her time was considered as one of the top ten hot women in the world. She has featured in a number of popular fashion magazines because of her beauty.
As a professional, she has featured in fifty different productions. She has had a very illustrious career both in movies and TV shows. She is currently working on an upcoming series titled "Significant Mother". She is well known for her shows like "Baywatch".
[ CAPTION: Krista Allen ]
[ SOURCE: ThePlace2 ]
Her most remarkable performance in movies has come through " Confessions of a Dangerous Mind", " Anger Management", "The Final Destination", "Black Widow" and "Little Women, Big Cars".
Her net worth has been estimated to be somewhere around $4 million. She is also very popular on social networking sites like Twitter and Instagram.