One of the most beloved cast member of the famous TV reality show- Storage War, Brandi Passante is well known as the level-headed, in the dramatic world of Storage Wars. Check out these five interesting facts about Storage Wars' Star-Brandi Passante.
Brandi is a successful business entrepreneur and also a mother of two children. Besides that, she is also a talented chef. So without any delay let's know some of the interesting facts about Brandi Passante.
Five facts of Storage Wars' Star- Brandi Passante
Brandi Passante was born was born on 16 May 1980 in Harris County, Texas as Brandi Leigh Passante. She started her career by doing carpeting-cleaning job and after that, she opened her own store- Now & Then in California.
5. Brandi Passante- Sued over a Video
Back in 2012, Brandi learned that a video was making the round online via Twitter. And the person who was streaming on the video of their site was Brandi. And after that, she decided to take a legal action against that person.

CAPTION: Brandi Passante- Sued over a Video
SOURCE: pinterest.com
She said that it was negatively affecting her image. Well, its pretty horrible to be criticised on social media. Don't you think so? However, things did get resolved but not the way Brandi wanted.
Youtube: Five facts you need to know about Brandi Passante
4. Brandi Passante- Loves cooking
Well, you probably might not have an idea that Brandi loves to cook. She enjoys getting into the kitchen and loves to feed her family. It's quite fun to learn random facts about our favorite star and it's even more quite surprising to know that you have something common with them. Are we wrong on this one?
Also read: Chef Gordon Ramsey Restaurant, Recipes, and Cook Book

CAPTION: Brandi Passante- Loves cooking
SOURCE: Heavy.com
Brandi even once considered to be a cook and she sums chicken stroganoff as one of her specialisms. She said Lifetimemons.com,
"I love to cook! I'm Sicilian, so it is in my blood! But it is time-consuming, so I have learned how to cut corners. I rely on roasted chickens a lot – I use them to make things like soups and pot pies. They make it possible for me to get dinner on the table in 30 minutes."
3. Brandi Passante- In a relationship with Jarrod Schulz for more than a decade
Brandi met Jarrod at a carpet cleaning company in 1999, since then they have been together. Although they know each other since 1999, they aren't married. Well, at least not officially. Their fans have so many questions regarding their relationship but they like to keep their fans guessing.
Also read: Is Brandi Passante and Her Husband Jarrod Schulz Happily Married? Their Love life and Romance

CAPTION: Brandi Passante- In a relationship with Jarrod Schulz f
SOURCE: Heavy.com
2. Brandi Passante- Doesn't like Lipstick
Once in an interview, Brandi said that she never wears lipstick because she has awkward chicken lips and she said that it looks really ridiculous on her. She is beautiful and has a great lip but if she really hates lipsticks then that's allright.

CAPTION: Brandi Passante- Doesn't like Lipstick
SOURCE: thefamouspeople.com
1. Brandi Passante- Hates using Escalator
There's literally a phobia which causes fear of escalator and Brandi has it too. She even admitted that she wants to hide or keep it a secret, but it's quite awesome facts about Brandi. Don't you think so?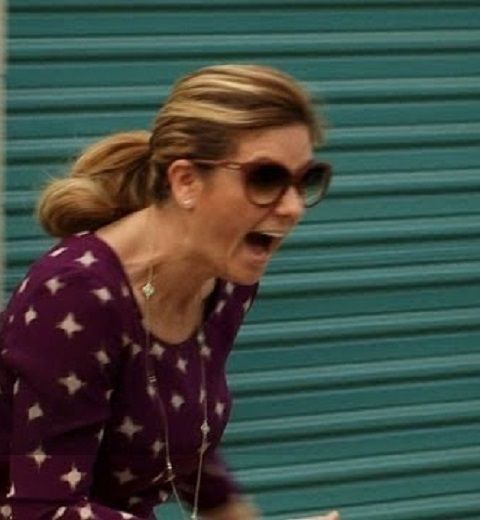 CAPTION: Brandi Passante- Hate using Escalator
SOURCE: YouTube
She said that she really hates using escalators. She holds her breath every time she uses it. If you are laughing, then you probably should stop because she is honest and that honesty makes her very much relatable.