Know Cristiano Ronaldo's Net Worth, House, Cars, Contracts, Charity, and Endorsements Deals
Know Cristiano Ronaldo's Net Worth, House, Cars, Contracts, Charity, and Endorsements Deals
The king of Skills and the most talented player, Cristiano Ronaldo after Ronaldhino is the forward striker for the Portugal National Team and Real Madrid Club. He was announced as the best player in the world for the fourth time.
Cristiano Ronaldo has placed his name in millions of fans heart and the fan are willing to know all about his lifestyle and net worth. So, keep scrolling and know all about his salary, cars, houses, deals, charity.
Must Read: Is Cristiano Ronaldo's Girlfriend, Georgina Rodriguez Pregnant?
Must Read: Cristiano Ronaldo Jr's Mother Couldn't Abort Him but His Father Was Nearly Aborted. Father - Son Relationship
Cristiano Ronaldo Net worth, salaries, Deal
According to the Forbes, the King of Skills Cristiano Ronaldo has an estimated net worth of $93 million and it was announced that Real Madrid pays him more than $50 million for next four year each.
[ CAPTION: CR7 ]
[ SOURCE: D'marge ]
In November 2016, when Ronaldo has signed a new contract with Madrid he reportedly earns around £365,000 a week which deal runs until 2021. The Portugal captains earn slightly more than Gareth Bale but it has been overtaken as the highest-paid player by Lionel Messi who contracts excess of worth is to be £500,000 a week.
Cristiano Ronaldo has also a lifetime deal with Nike which upward worth is $1 billion. Cristiano Ronaldo has growing line brand of CR7 products which includes Shoes, fragrance, underwear, jeans and a line of hotels which remains the most popular athlete in the world with 275 million social media followers.
[ CAPTION: CR7 ]
[ SOURCE: Business rider ]
Although when the contract is being signed before the only footballer who has earned more than Cristiano Ronaldo was Carlos Tevez, who reportedly earns £615,000 a week at Shanghai Shenhua.
Must Read: Footballer Carlos Tevez, aged 31, transfers from Juventus to hometown club Boca Juniors,
Cristiano Ronaldo Charity
The Real Madrid star, Cristiano Ronaldo has a long list of donation to the number of fantastic causes, for paying the brain surgery of a 10-years-old fan in 2001. And then another nine years old's cancer treatment for giving £5 million of donation to help the aid effort in Nepal following the devastating earthquake in 2015.
[ CAPTION: CR7 ]
[ SOURCE: charity Donation ]
Well, he was voted for the most charitable athlete in the world and he was continuously raising the worth of £600,000 by selling his 2015 Ballon d'Or trophies in order to make a wish Foundation. Ronaldo has also received a request for a donation of his football boots and a shirt to help $83,000 for 10 month-old in need of an operation.
Must Read: Is Irina Shayk pregnant? Find out her relationship with Bradley Cooper and Cristiano Ronaldo. Who is the Father?
Must Read: Zinedine Zidane believes that Karim Benzema and Cristiano Ronaldo can help Real Madrid win.
Cristiano Ronaldo Cars collections
The Portugal captain, Cristiano has the collections of 19 cars which include BMW M6 which estimated price is $102,000, also he owns a Bentley Continental GTC which price is $195,000, moreover, he has bought a Mercedes-Benz C-Class Sports Coupé which price is for $55,000. well, the Ronaldo's car is also listed below:
Bugatti Veyron $1.7 million
Lamborghini Aventador LP 700-4 $318,000
Porsche Cayenne $70,000
Ferrari 599 GTB Fiorano $310,000
Audi Q7 $50,000
Ferrari F430 $300,000
Porsche 911 Carrera 2 S Cabriolet $101,000
Bentley GT Speed $220,000
Audi R8 $150,000
Audi RS6 $80,000
Maserati GranCabrio $140,000
Ferrari 599 GTO $385,000
Porsche Cayenne Turbo $96,000
Mercedes-Benz C220 CDI $40,000
Phantom Rolls-Royce $200,000
Aston Martin DB9 $200,000
Youtube: cars collection
As the collections of Ronaldo's car is worth over $4.9 million. Moreover, he has private Jet of £15million which is crashed at the airport of Barcelona while trying to land. Ronaldo has also bought a luxury yacht which is searched by the armed customs agent.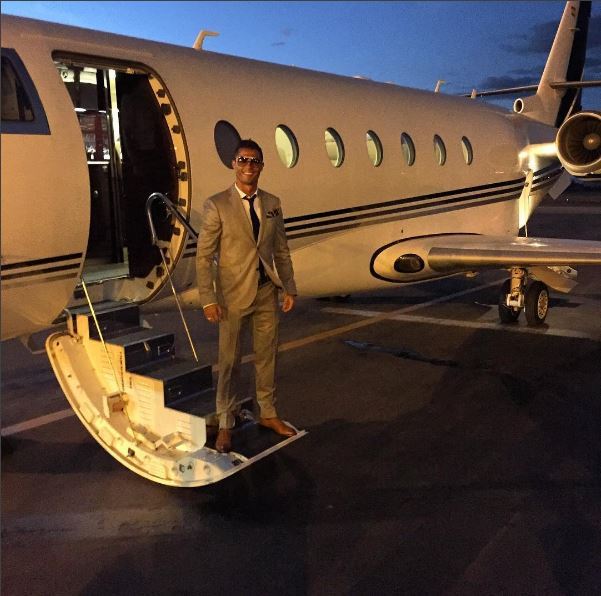 [ CAPTION: CR7 ]
[ SOURCE: Ameyaw Debrah ]
Now, let's scroll down to know about his house.
Cristiano Ronaldo Houses
Cristiano Ronaldo has bought a Mansion for £4.8 million in La Finca which is spread in 8,600 foot and includes seven bedrooms and eight bathrooms and also has built a Buddha's head. Ronaldo has also bought a House in Madrid, Spain for $132 million.
[ CAPTION: CR7 ]
[ SOURCE: Photo Via ]
So, we can assume that the expensive player in the world is living a lavish life with his earning from various brand and deals.