How many of you know about Instagram star Nathan Schwandt? You might remember him for being the boyfriend of American singer-songwriter, make-up artist, model, and fashion designer Jeffree Lynn Steininger aka Jeffree Star.
We all know, Jeffree Star is known for his fashion line "Beauty Forever" and his transgressive, gender-bending appearance. Today, in this column, we will let you people know about Nathan Schwandt dating relationship with Jeffree. Get to know how and where the couple's relationship started. Check it out:
Despite several controversies; Nathan Schwandt's Dating Relationship with Jeffree Star is Going Strong
We often hear that the social media has brought millions of people together and how people fall in love with each other. In the same context, Nathan Schwandt and Jeffree Star who first met through Instagram is now enjoying a happy dating relationship.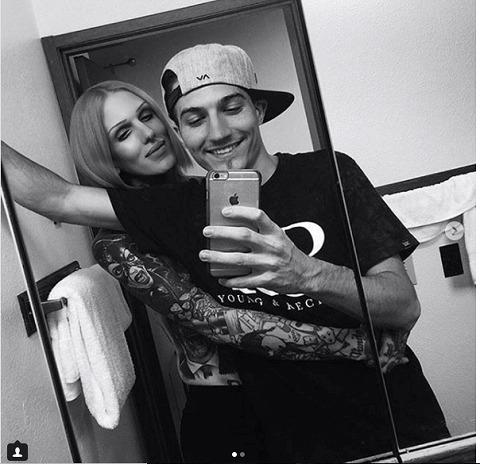 CAPTION: Nathan Schwandt's Dating Relationship with Jeffree Star
SOURCE: Instagram
A couple of gossip mongers claim that Nathan Schwandt's dating relationship with Jeffree Star started back since 2015 and is still going strong. It was also reported that Schwandt flew out from Michigan to California to meet Jeffree for the very first time. The couple went out for dinner at Santa Monica Pier followed by a romantic walk along the beach.
At the moment, it's been around three years that the couple started dating and is still going smooth as silk. Previously, there was a top topic and controversy that Nathan described himself as a straight thus dating Jeffree Star is only his publicity stunt. There were rumors that Nathan Schwandt is dating Jeffree Star for his money and is just using him for his own advantage.
But later, through a Q&A YouTube video Schwandt explained that he had only ever dated women. He along with Jeffree believe that gender bounds no any relationships and this is why they are still connected.
At the moment, the couple is enjoying a live-in relationship in California. Back in July 2016, Jeffree went down to Michigan to meet Schwandt's family. While Jeffree met Schwandt family, he employed Nathan's younger brother to help him out with the expansion of Jeffree Star Cosmetics.
Expressing Love through Instagram
People can't stop themselves from posting the pictures of their love and their likes/ dislikes. Jeffrey and Nathan have no fear of sharing their relationship with the outer world. Despite several controversies and rumors, the couple keeps posting their pictures together on Instagram letting people know that they do not care about others.
These pictures prove that love does not look age, gender, caste, race, or anything. Nathan Schwandt and Jeffree Star are deeply and madly in love with each other and are regarded to be the couple who is sharing a strong bond of true love.
Five Interesting Facts about Nathan Schwandt and Jeffree Star
In an interview, Schwandt once explained that he and Jeffree have passwords to each other's phone. The pair declared their high level of trust for each other.
Schwandt revealed that he did not give much attention to skin care. His relationship with Jeffree has made him realize about his facial care.
Schwandt revealed that he and Jeffree do not really read the negative comments on their social media.
During Jeffree Star and Nathan Schwandt's first date, they went out for dinner at Santa Monica Pier followed by a romantic walk along the beach.
Schwandt smokes a variety of joints but was never into clubs and bar. And his boyfriend does not consume alcohol.