Kingsman Actor Taron Egerton Gay or Straight?
Kingsman Actor Taron Egerton Gay or Straight?
Taron Egerton, as everyone may know the dashing spy from the movie the Kingsman; The secret service is a rising star. So is the Welsh handsome Taron Egerton dating currently or not?
Last year, Taron shared that he is 'desperately single.' So guys, get ready to know if Gary "Eggsy" Unwin, our Taron Egerton is now single and available?
Is Taron Egerton Dating or Single?
Nope. Sorry ladies but Taron Egerton already has a girl! Earlier there were rumors about him being a gay. However, he denied those rumors.
No Taron is not gay! Source: Pinterest
The rumors might have started from his movie, 'Legend' since he had played the role of a gay in the movie. But nope, Egerton is straight guys!
Taron Egerton in Legend Source: Pinterest
With 119k Instagram and 355k Twitter followers, one can easily assume that many girls might have a crush on Taron Egerton. But he might also be having a crush on someone secretly. Let's find out who the lucky girl is?
As seen in the movies, he seems true to his behavior. Taron seems to be shy at least when the topic comes to dating a girl.
The 28-year-old actor rose to prominence from his role in the Kingsman; The secret service and now the actor has succeeded in stealing, even more, hearts and admirers with the release of his second movie, Kingsman: The Golden Circle.
Taron Egerton in The Kingsman 2 Source: moviepilot.com
You can find details about him easily on the Internet yet there is barely any information about the heartthrob's girlfriend. However, during an interview in 2016, the Sing voiced actor slipped a hint that he indeed is taken. See for yourself.
Okay, the Legend actor talked about having a girl but did not tell who she was. But Emily Thomas might be the one as Taron Egerton and Emily have been spotted many times together. Like the duo was reported together during a summer vacation.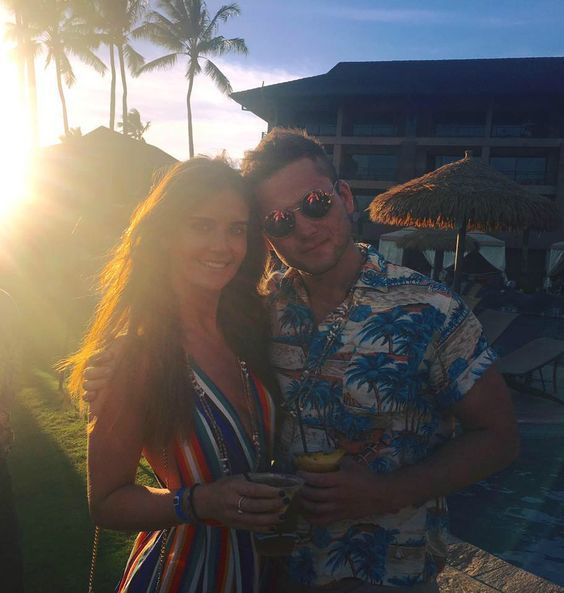 Taron and Emily spotted together arm in arms spending summer vacation Source: Pinterest
Taron seems to be very much in love with his girl, Emily Thomas. Apparently, he chose not to disclose her name as he knows paparazzi will go frenzy after her once her name is revealed.
Taron Egerton leaving the Claridges Hotel in London with his rumored girlfriend, Emily Thomas Source: Pinterest
Egerton was also spotted leaving the Claridges Hotel with Emily Claridges in London. There are many other pictures found on the internet pointing towards the fact that Emily might be the girl who stole the Englishman's heart.
Taron Egerton rumored girlfriend
However, the couple has not confirmed their relationship officially but let's hope they will soon.
Ten Facts about Taron Egerton
1. Taron Egerton was born on November 10, 1989.
2. Taron Egerton was born in Birkenhead, United Kingdom.
3. Taron Egerton used to run a bed-and-breakfast service.
4. Taron Egerton belongs to white ethnicity.
5. Taron Egerton stands height of 1.75 m and weighs around 78 kg or 172 pounds.
6. Taron Egerton is recently residing in

Muswell Hill, North London, UK.
7. Taron Egerton's upcoming movie is Robin Hood.
8. Taron Egerton has mole mark on his front neck.
9. Taron Egerton first appeared in a 2012 short film Pop.
10. Taron Egerton is a diehard fan of Manchester United Football club.