Keira Knightley and James Righton's Married Life in happy Key! And they Have a Daughter
Keira Knightley and James Righton's Married Life in happy Key! And they Have a Daughter
Great marriages don't just happen, they are the result of consistent investments of time, mutual respect, understanding, and forgiveness. The quote defines the relationship between an English actress, Keira Knightley and her husband, James Righton who are together since long and are fully committed towards their relationship.
Are you all curious to know every personal detail regarding Keira's wedding as well as the number of children she has mothered in her long and sound married life. Let's get with it!
Keira Knightley and husband James Righton
Keira Knightley and husband Righton have been together since 2011. After a year they were first publicly spotted together, they were engaged and were finally married in 2013.
[ CAPTION: Keira Knightley with her husband James Righton ]
[ SOURCE: Daily Mail ]
The couple was first introduced by their mutual friend Alexa Chung and Sienna Miller. They were one of only eleven guests invited to their wedding in 2013.
Anna Karenina actress, Keira wore a beautiful Channel couture pale grey tulle, a bustier dress that came to the knee. She also wore pink and grey Chanel ballet pumps and a floral garland in her hair. The gold band of the wedding day that Keira wore belongs to James' grandmother. Further, as per the online sources, the ring he gave her was a family heirloom.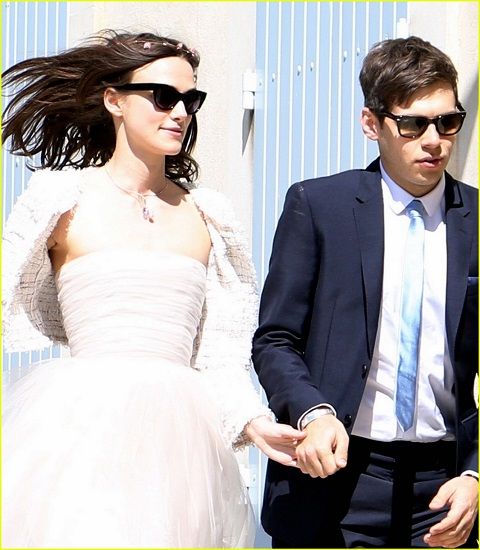 [ CAPTION: Keira Knightley: Wedding Photo with James Righton ]
[ SOURCE: Just Jared ]
The marriage was held in sun-drenched Provence in French. The couple exchanged their vows in front of their families and close friends in the town hall of the hilltop village of Mazan in the south of France. Many of the wedding guests were staying in Rishton's former home, the Chateau de Mazan which has been converted into a five-star hotel.
Also Read: Tom Sturridge and girlfriend Sienna Miller broke up, still chances of reunion says close friend in an interview
After the ceremony, the duo drove back to the Keira's family farmhouse in order to continue the celebrations at a reception for around 50 guests including designer Karl Lagerfeld and Sienna Miller.
Youtube: Keira Knightley talks about her pregnancy;
Moreover, James, 34, and Keira, 32 still looked in the first throes of love as they attended the mothers2mothers Winter Fundraiser which was hosted by Salma Hayek Pinault and Francois-Henri Pinault in London.
Well, the couple now is not just the family of two. They are blessed with children. We will be talking about the couple children below.
You May Also See: Who is Salma Hayek's Husband? Salma Hayek's Nude Pose is Hot
Keira Knightley and James Righton Children
Two years later after Keira and James marriage, they are overjoyed to start a family. The Pirates of the Caribbean actress, Keira Knightley has given birth to their first child. The child was a baby girl, Edie born in 2015.
[ CAPTION: Keira Knightley with her daughter, Edie ]
[ SOURCE: Instagram ]
Being free from their busy schedules in order to enjoy a leisurely stroll in London, the couple went out for an outing with their daughter, Edie. She is two years old now and loves to dress like her mother.
However, the couple is still together and hope this relationship will never end.