"I am Bernie Sanders, I'm a voice for regular people. I'm not fancy. I'm not the elite. I put on my pants just like all of you. I sit on the edge of the bed and Jane pulls them up for me".
However, it was not Sanders who gave this statement but David, with the voice with uncanny resemblances to the former's.
The debate between Bernie Sanders and Hillary Clinton last Thursday night was epic. Truly, nothing beats two opposing groups throwing tantrums at each other and especially when it is about politics. Both these showed the importance of the Democratic nomination fight.
With an attempt to bring Larry David to Saturday Night live and have a mini Seinfeld reunion, Julia Louis made it work out perfectly. It has been a while since Seinfeld ended and it was the perfect opportunity for Julia and David to have a reunion of their own. Julia reprised her role as Ellen Benes.
The parody of this Thursday night debate cheered the whole SNL crowd.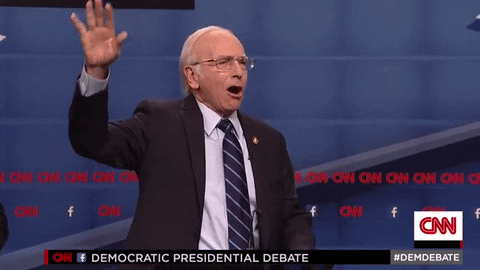 Kate McKinnon's Hillary Clinton and David's Sanders was really a sight to behold. In fact, it was to be expected as they are both good as mimicking the respective people. Admit it, no matter how many time we see them giving an impression of other, it is still perfect.
Live from New York it's HRC, Elaine and Bernie! #SNL https://t.co/i53I3ZB5Cw

— Saturday Night Live (@nbcsnl) April 17, 2016
Not only were they able to entertain the audience but summarize the entire actual debate between the two actual politicians
"When we started doing our show the idea of a presidential candidate being a cursing narcissistic buffoon was a joke," said Julia implying that although it was for fun, none of it was intended to offend the actual Bernie Sanders and Hillary Clinton or any other who has been a victim of SNL.
Source:NBC