Joseph Leonardo Gordon-Levitt aka Joseph Gordon-Levitt has a long history in his acting career. This American actor is famous for his roles in the movies like A River Runs Through it. Angles in the outfit, Inception, G.I. Joe: The Rise of Cobra and much more.
Well, we all know how good is Joseph on the screen and if you are a big fan of Gordon, you may be well familiar with his personal life. With the one and off relationship with several co-stars finally, Joseph got his heart stuck on a Robotic scientist.
Joseph Gordon-Levitt welcomes his first child
The 36-year-old actor had more reasons to smile when his wife Tasha McCauley married gave birth to a lovely baby boy in August 2015. The couple welcomed their first child just after one year of their marriage. However, the name of their son hasn't been revealed yet.
Everyone was happy and healthy following the birth of their child. The couple exchanged their vows back in December 2014 in a secret ceremony in Los Angeles. Few of their mutual friends and guests were invited.
Joseph Gordon-Levitt's wife Tasha McCauley, source: Daily Mail
Before tying a knot, this couple kept their relationship in the limelight but their dating news broke out when they were spotted out in public in 2013.
In an interview, when asked about his girlfriend back then, he said:
I have a girlfriend but I tend not to really like to talk about it in public,'
First Look of actor Joseph Gordon-Levitt with his son in New York City, source: Celebrity Baby Scoop
The Dark Knight Rises star likes to be in the news as he does promotion of his movies and does TV shows. In the other end, his wife rarely makes any public appearance. You might be wondering why? The reason is that Tasha is not an actress or a model, she is a robotic scientist. Joseph addressed his wife as a woman who doesn't like strangers being privy to her life and relationships.
Must Read: Joseph Gordon-Levitt's Wife Tasha McCauley: See their Married Life and Children
Joseph Gordon-Levitt's wife, their relationship
The new parents Hollywood, Joseph and Tasha who manages to stay out of the spotlight made their headlines with their relationship when they welcomed their first child.
Joseph Gordon-Levitt's wife Tasha McCauley, source: People
Both Joseph and Tasha have made their past life and we have to dig up some facts about this couple.
Gordon and McCauley kept their relationship a secret
In 2013 the news spread out on the internet when Joseph was spotted with the new girl. After meeting through a mutual friend, this duo started dating for ages. Though their relation good out in public, somehow they managed to be under the radar.
Joseph Gordon-Levitt and Tasha was spotted in the Beverly Hills, source: Daily Mail
But at 2015 when Tasha gave birth to a baby boy, their relationship got in the spotlight.
McCauley is a scientist
Yes, you read it right, Tasha is a super genius wife as she is the c0-founder and CEO of a robotics company named 'Fellow Robots' which is based on NASA research. McCauley is more impressive than her husband? What do you think?
Tasha McCauley: Joseph Gordon-Levitt's Wife, source: Celeb Dirty Laundry
In her spare time from her company, Tasha teaches about the robotic science. She taught artificial intelligence classed at Singularity University in California.
McCauley has long list of her education career
Speaking of some major facts, Tasha definitely spent most of her times in the classroom. She got her B.A in robotics from Brad College in Singularity University. In 2013, she also obtained an International Business Education and Research MBA from the University of Southern California.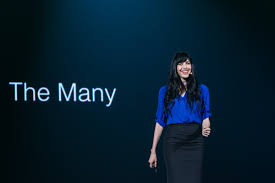 Tasha McCauley, source: Twitter
Joseph identified himself as a feminist
The actor identified himself as a feminist. In an Interview, giving credit to his mother for his wonderful career, he said
"My mom brought me up to be a feminist. She was active in the movement in the '60s and '70s. The Hollywood movie industry has come a long way since its past. It certainly has a bad history of sexism, but it ain't all the way yet.
Joseph Gordon-Levitt with his son and wife Tasha McCauley, Source: Daily Mail