Remember psychic and detective Shawn Spencer from the series Psych? If you have watched the series Psych, then you must be familiar with detective Juliet. What if you got a chance to date the one who will be working with you?
We have already heard a lot of love stories that start with the working mate. Same goes for James Roday and Maggie Lawson. James and Maggie were the TV couple (Psych) who also dated in real life. Know more about their relationship and past affairs too.
James Roday and Maggie Lawson
James and Maggie were once taken the cutest couple in the television world. The on-screen couple soon turned to be the real-life couple. The couple fell in love on the set of their own series "Psych."
As per some reports, the couple started dating since 2006. Spending the quality with the one you love in the sets as well as in your house, it sounds so cool, isn't it? The couple not only worked in the series together but also shared their off-screen relation.
James Roday and Maggie Lawson Source: cimcontent
The couple spent their amazing seven years together since 2006. Even after dating for seven years, the relationship didn't go well. It looks like spending the quality time on both television and real life did not work for the couple.
Maggie Lawson's Current Relationship
Talking about the beautiful and stunning Maggie's current relationship, she is now married to American actor Benjamin Koldyke. After breaking up with James Roday, she started dating Koldyke.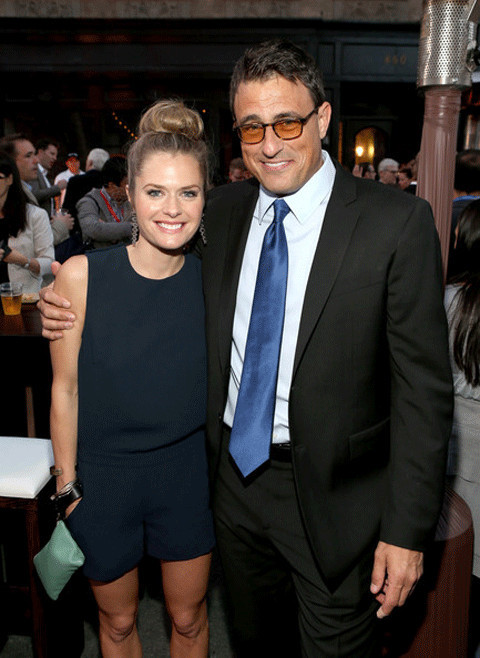 Maggie Lawson and Benjamin Koldyke Source: lovebirdsblog
Maggie and Benjamin dated for a year and then finally tied the knot on 8th August 2015. No doubt, their marital life is going as smoothly as silk. The couple has never been rumored in any kind of breakup or any separation issues till the date.
The couple does not have any children till date. Hope their relationship goes longer. Going through her official Instagram account, she has shared beautiful pictures of her with her husband in which both of them seems happy with each other.
[ CAPTION: James Roday ][ SOURCE: Twitter ]
Maggie Lawson's Past Affairs
Everyone must be keen to know whether the beautiful actress dated anyone before James Roday? YES. Maggie first dated American actor Eric Christian Olsen in the year 2003. The couple dated for around two years but the relationship did not go well thus separated.
[ CAPTION: James Roday ]
[ SOURCE: custom]